December was busiest month on record for London Ambulance Service
Latest figures reveal that December 2018 was London Ambulance Service's busiest month on record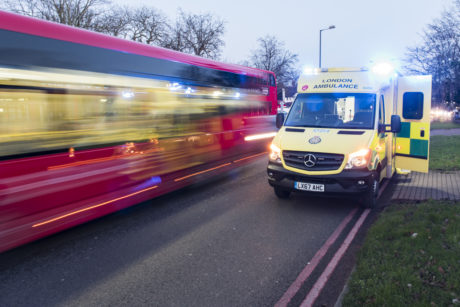 Frontline ambulance crews in the capital treated almost 101,000 patients  – around 7,000 more than the monthly average for last year.
Director of Operations Paul Woodrow said: "Demand on our services continues to rise year on year. December is a particularly busy month for us due to Christmas festivities and winter illnesses and injuries.
"We plan carefully for periods of increased activity and put more staff on the road and in our control rooms to meet the increased demand. As a result, every day in December 2018 we reached our most seriously ill and injured patients (category 1 calls) in less than seven minutes.
"This is a real credit to the hard work of all of our staff – including those on the frontline treating patients, those in our control rooms taking calls and sending ambulances and also those working behind the scenes."
The second busiest month on record was December 2016, when ambulance crews saw 99,632 patients face to face, followed by December 2017, which saw 97,933 patients assessed and treated.
As part of its five-year strategy, the Service is looking at a variety of innovative ways to meet the challenge of rising demand across London.
A key aim of the strategy is to reduce the proportion of patients that ambulance crews take to emergency departments when their individual needs can be met just as, or more, effectively in their own homes or a referral to an alternative service.
The Service is also aiming to offer a wider range of specialist staff, including midwives and mental health nurses, and provide more care for patients on the telephone and at the scene where a hospital admission is not required.
The Service's strategy also involves taking full advantage of new digital technology to make our services more accessible and improve the overall experience for our patients.
Paul added: "With the increased demand and recent cold snap, I'd like to remind Londoners to only call for an ambulance in an emergency and use 111 for urgent healthcare advice, or visit your GP or pharmacist."