London Ambulance Service's Director of Operations, Paul Woodrow awarded OBE in Queen's New Year's Honours List
London Ambulance Service's Director of Operations, Paul Woodrow, has today been awarded an OBE in the Queen's New Year's Honours List for 2019.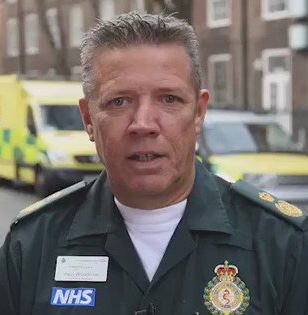 Commenting on the award which Paul receives for services to NHS leadership, Heather Lawrence, Chairman at London Ambulance Service said:
"Paul showed outstanding leadership and support to the frontline during the tragic events of 2017.
"And under his leadership, our operational directorate helps our Service go from strength to strength. It's fitting that as we approach New Year's Eve, our busiest day of the year for our operational staff, the man in charge of our operational response is recognised in this way. I'd like to personally thank him for everything he does every single day to make this organisation what it is."
Paul said: "I am extremely honoured and humbled to receive such recognition. I am part of a great organisation that has great people working very hard across all departments, and I dedicate this award to each and every one of them."
Paul's story
Paul Woodrow has had a long and distinguished career of outstanding achievements. He has been delivering patient care for 27 years, qualifying as a paramedic in 1995 and working on London's Air Ambulance in 2000 before rising through a series of promotions to his current post as the Director of Operations in 2015.
During 2017, there was an unprecedented number of major and significant incidents for the Service to respond to including the terror attacks at Westminster Bridge, London Bridge and Parsons Green and the Grenfell Tower fire. Many hundreds of patients received care from frontline ambulance crews during these events under Paul's leadership, all whilst the Service continued to provide a world-class service to the hundreds of thousands of other Londoners who needed help.
He has been instrumental in promoting the need for staff to consider their own welfare in the aftermath of major incidents, removing the stigma sometimes associated with PTSD assessments by publicly discussing that he had himself gone through the assessment process.
Paul has a well-deserved reputation amongst staff of leading from the front and being always visible to the thousands of colleagues who look up to him – a true leader of the men and women of London Ambulance Service.
Paul's personal direction and motivation has ensured that the Service keeps rising to the challenges faced every day in London and that improvements continue to be made in how major incidents are responded to at a local, regional and national level. He is a role model for all London Ambulance Service staff and richly deserves this prestigious honour.