We thank Millwall football fans and Rainworth ŠKODA dealership for their generosity after damaged ambulance car is repaired
An ambulance car damaged during World Cup celebrations has been repaired – after London Ambulance Service received a flood of goodwill messages and offers to help fix it.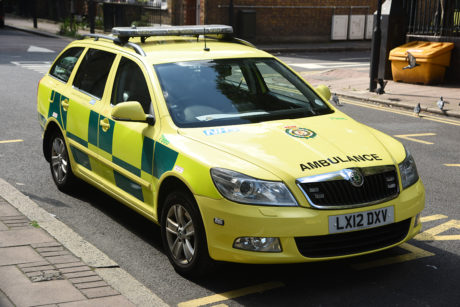 On 7 July, shortly after England's victory in their World Cup quarter-final match, a ŠKODA Octavia attending an emergency call near Borough Market was damaged by revellers celebrating the result– some of whom jumped on the bonnet and roof. The car was taken off the road to be fixed on a weekend when the Service was extremely busy.
Alongside messages of support from across the world, the Millwall Football Club Supporters' Club set up a fundraising campaign to offer to pay for the car to be repaired, if required.
Around the same time a ŠKODA dealership in Mansfield – Rainworth ŠKODA – came forward and offered to fix the car at no cost to London Ambulance Service after seeing social media posts about the damage.
The Millwall FC Supporters' Club therefore generously agreed that the funds that had been raised would instead be donated towards the restoration of a historic ambulance.
This vehicle – a Morris Wandsworth ambulance from 1965 will be restored for future display at the London Ambulance Service headquarters building in Waterloo.
Millwall FC Supporters' Club presented a cheque with the funds raised  – almost £10,000 – to medics from London Ambulance Service at the side of the pitch before the Lions' match against Swansea City earlier this month.
London Ambulance Service Chief Executive Garrett Emmerson said:
"We were very humbled by these two acts of generosity, from the Millwall FC Supporters' Club and from Rainworth ŠKODA.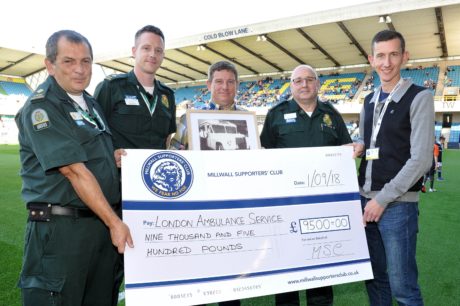 "The Millwall Supporters' Club fundraising campaign, and the money donated from people across the world means a lot to me and everyone at London Ambulance Service.
"We are also very grateful to ŠKODA for their generosity in repairing the car so it can be back on the road quickly, going to those in need.
"It is fantastic that the Supporters' Club agreed that the money they raised could instead go towards restoring an ambulance from our historic collection, which will now be a lasting reminder for years to come of our proud history and Millwall fans' generosity."
Chris Lineker, Marketing Manager at Rainworth ŠKODA said:
"We proudly support our local Ambulance Service (East Midlands Ambulance Service) by maintaining their fleet of ŠKODA Paramedic and Fast Response Vehicles. We know just how important it is to keep these vehicles properly maintained and off the road for as short a period as possible – their value to the NHS and the local community is immeasurable. So when we saw the London Ambulance Service was in need of help, we were passionate about getting involved.
"It's an honour for all the staff at Rainworth ŠKODA to be able to help our NHS, in their 70th year of service – but what's more important, is thanks to a tremendous level of support from so many people, the ambulance is now fully repaired and is back out saving lives, exactly where it should be."
Kathryn Gale, Chair of the Millwall Supporters' Club said:
"A spur of the moment idea results in a long lasting legacy. Millwall fans can always be relied on to get behind such issues and it was heartening to see how other clubs' fans supported the cause.
"Good job done, we look forward to seeing how the project progresses."