Poll of Londoners shows confidence in our service but some misunderstandings of what ambulances should be used for
A poll of Londoners released today has shown that the vast majority of those living in the capital have confidence in London Ambulance Service and believe our staff are doing an excellent job.
The London Assembly Health Committee has been talking to Londoners about their views of the London Ambulance Service – what they think our main priorities should be and the challenges we face.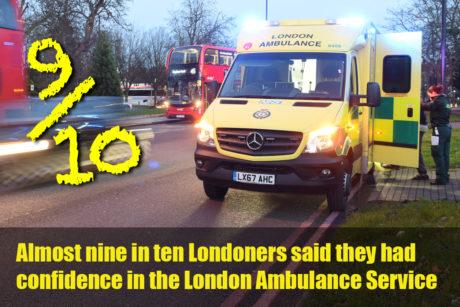 The results of the Committee's survey released today show that almost nine in ten Londoners said they had confidence in our service and care.
There was widespread support for our staff in the responses, who were seen as doing an excellent job in often challenging circumstances. Paramedics in particular are recognised as highly trained.
However the survey also highlighted some misunderstandings about what the ambulance service should be used for, and lack of awareness of alternative healthcare options.
Despite over 90 per cent of respondents saying that ambulance services should only be used in emergencies, 72 per cent believed that people use the ambulance service when they don't need to.
Londoners reported that they have a high degree of confidence in their own knowledge of when to call an ambulance, but 23 per cent of 18-24 year-olds stated they would call an ambulance because they couldn't get an urgent GP appointment. For over 65s this was six per cent.
The survey also found that more than half of 18-24 year-olds would call an ambulance in a non-emergency situation because they have no other way to get someone to hospital.
Nearly one in five of those responding in the survey were not aware of the NHS 111 service, the free number to call when you have an urgent healthcare need which isn't a life threatening situation.
London Ambulance Service Chief Executive Garrett Emmerson said:
"The latest poll of Londoners shows we need to remind people, of all ages to use us wisely and only call 999 in a genuine emergency.
"We are delighted that the survey shows that the overwhelming majority of Londoners have confidence in us and think our staff do an excellent job. It's fantastic their dedication and hard work – which we see every day – has received this recognition from the public."
Dr Onkar Sahota AM, Chair of the Health Committee said:
"Paramedics are highly skilled professionals providing a first line of treatment to those most in need of urgent healthcare."
Find out more