Family introduce 'hero' 999 call hander to the baby he helped deliver over the phone
A baby girl and her family have been reunited with the London Ambulance Service call handler who helped deliver her safely over the phone.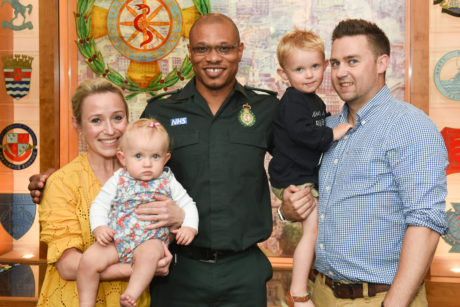 Ten month old Jemima was born last July after mum Chloe went into labour earlier than expected.
The family called for an ambulance and Emergency Medical Dispatcher Dean talked dad Dominic carefully through the steps to deliver his daughter at home.
The family, from Surbiton, were reunited with Dean at London Ambulance Service's Waterloo headquarters nearly a year on from Jemima's birth.
As a way to recognise Dean's help the family gave Jemima the middle name Edna, an anagram of Dean.
Talking to Dean, mum Chloe said: "It's so lovely to meet you and say thank you because it isn't something that happens every day – it's not every day you can meet your hero."
Dad Dominic added; "It really could have been any of the staff that night, but we were so lucky it was Dean. He was our midwife and we will be forever grateful."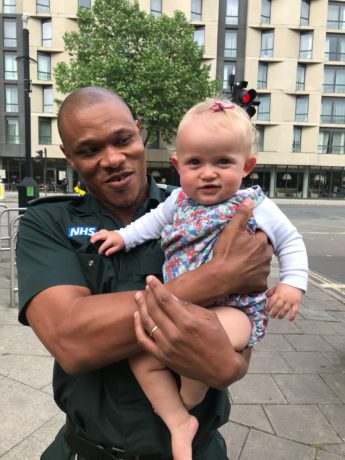 The family also presented Dean with his stork pin badge, a special badge given out to control room staff who have delivered a baby over the phone before the arrival of an ambulance crew.
Chloe added: "The overriding memory for me was the tone of Dean's voice, just the way he took charge and stayed calm. I will remember his voice forever."
Dean, who has worked in the control room for four years, said: "I remember the call and realising that things had to happen quickly, we had to act fast.
"The control room went really quiet; it doesn't feel like calls like this happen a lot.
"It's an unbelievable honour to meet such a wonderful family and isn't something that happens every day. I feel truly inspired and they will inspire me in everything I do here."