Medics honoured for saving girl who was shot
Three London Ambulance Service medics have been honoured at a glittering award ceremony celebrating NHS Heroes.
Paramedics James Lafferty and Caroline Appleby and emergency ambulance crew Sherridan Best have won the Emergency Lifesavers Award for saving the life of Britain's youngest gunshot victim.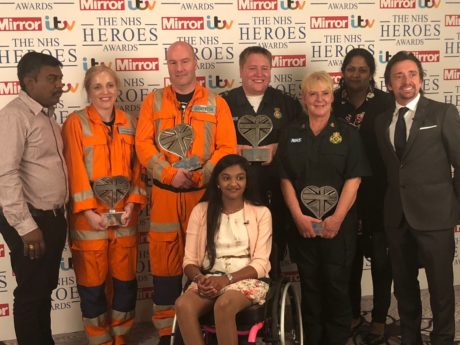 The trio – and Dr Vidar Magnusson – were presented their award by TV stars Richard Hammond and Katie Piper at the red carpet bash to celebrate the 70th anniversary of the NHS.
James, 29, said: "It was a very emotional night. When our award was announced, the whole room stood up. We had celebrities telling us we were amazing but the best bit about the night was seeing Thusha again and how far she has come."
James and Sherridan were the first medics to reach the then five-year-old Thusha Kamaleswaran who had been shot in the chest in her uncle's shop in 2011.
The little girl was in her father's arms: she had a collapsed lung and was in danger of bleeding to death.
The medics immediately called for assistance from their colleagues at London's Air Ambulance – Caroline and Vidar; then began to treat her.
They relieved the pressure building in her chest, attached a defibrillator and moved her into the street so the doctor could work on her when he arrived.
Sherridan, 53, said: "Even though we walked into commotion, everything we did was controlled. There was no panic, just focus – I think it is the training. That's not to say it doesn't affect you: we are only human after all.
"I found myself praying for Thusha when I got a quiet moment. Her story will live with me for the rest of my life."
Paramedic Caroline, 41, who was on secondment to London's Air Ambulance at the time, expressed her pride at being part of the team that saved Thusha and her pride in the NHS on this special year.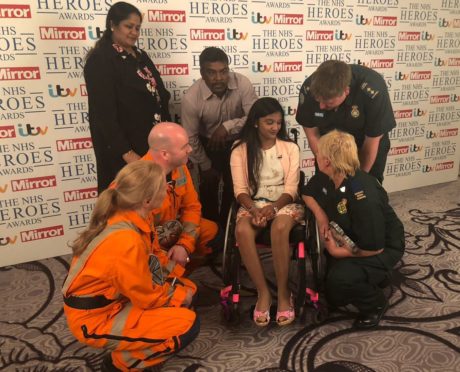 She said: "Day or night, when the very worst thing has happened, there will be someone there for you. That's the great thing about the NHS."
The NHS Heroes Awards, organised by ITV and the Mirror newspaper, was a star-studded event hosted by Paul O'Grady and attended by HRH Duchess of Cornwall.
In a special message played at the event, Prince William said: "The National Health Service is one of country's greatest treasures, and something we should all be immensely proud of.
"Perhaps the most wonderful thing about the NHS is its people. The skill, care and dedication that they provide every day is truly inspirational.
"I would like to pay tribute to every member of NHS staff, and the wonderful volunteers who do so much to support them – we owe you all a huge thank you."
The NHS Heroes Awards will be broadcast on ITV next Monday (May 21) at 8.30pm.