Suspended sentence for attack on ambulance crew
A woman who attacked a London Ambulance Service crew and wrecked thousands of pounds worth of life-saving equipment has been given a suspended sentence.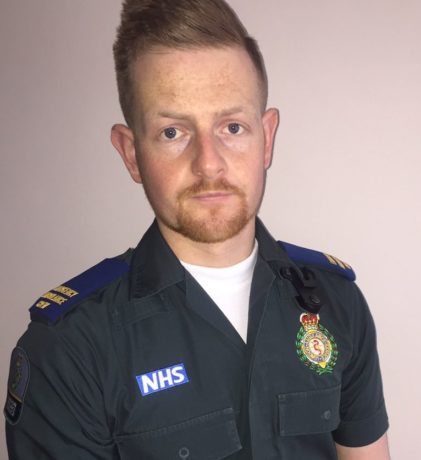 Emergency Ambulance Crew Harry Turner and Paramedic Kathryn Shelley were called to treat a woman who had been found unconscious in an alleyway off Green Lanes, Harringay.
When Sarah Ahmed, 35, of Hornsey Road, Holloway, gained consciousness, she started swearing and verbally abusing the medics who were trying to help her.
Harry, 25, said: "She was so drunk, she couldn't stand. I reached out to try to steady her and support her but she started threatening me.
"I backed off but she threw our kitbag at me."
The medics called the police as the woman ran at them, trying to hit them. The pair got into the ambulance for safety. Ahmed then smashed up their kit including their defibrillator.
Ahmed was sentenced to eight weeks in prison – suspended for 12 months. She was also fined £115 and ordered to attend a drug and alcohol treatment centre.
In the future, attacks on ambulance crews and other emergency workers could face tougher sentences thanks to a Bill being discussed in the House of Commons on Friday.
Harry, who has worked for London Ambulance Service for five years, said: "It's quite common for patients to be aggressive if they've been drinking or taking drugs, but I've never experienced this level of intimidation.
"It is frightening and it does shake you up and it's not fair that we should have to fear violence when we are out trying to help people."
Harry and Kathryn were off the road for several hours while their ambulance was restocked and they reported the crime to the police – meaning one less ambulance available during that time. It cost London Ambulance Service more than £10,000 to replace the damaged kit.
London Ambulance Service Director of Operations Paul Woodrow said: "The Assaults on Emergency Service Workers Bill is good news for anyone working on the frontline.
"We will always push for the toughest penalties for anyone who attacks ambulance crews while they are trying to treat patients.
"Physical or verbal aggression towards our medics or call takers is completely unacceptable. They should be free to carry out their duties – caring for Londoners – without fear."
ENDS
Notes to editors:
The offence happened on 13 April 2017
Ahmed pleaded guilty and was sentenced at Thames Magistrates on 13 April 2018.