Medic to teach life-saving skills at Mount Everest base camp
Emergency Ambulance Crew Justin Honey-Jones is planning to teach life-saving skills at Mount Everest base camp to raise money for charity.
Justin is embarking on his epic expedition – which will see him climbing 17,500 feet above sea level – tomorrow and will return on 12 April.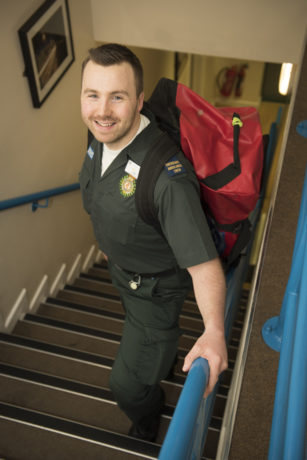 He said: "I'm putting my body through hell to prove a point. Eight hours of trekking a day at high altitude. When I reach the base camp, I'm determined to teach life-saving to show you can learn these skills anywhere."
Justin has been training for the past 12 months to prepare himself for the trek in Nepal – a mixture of High Intensity Interval Training and hill walking – to raise money for the British Heart Foundation.
Last year Justin, who is training to be a paramedic, started volunteering his time to give others life-saving skills. He delivers Heartstart courses, which cover the use of a defibrillator, managing choking, bleeding, and how to respond to someone having a suspected heart attack.
He said: "I'm passionate about this; I've always been passionate about this. Anyone can save a life – it's about education.
"I've seen people die because members of the public are afraid to use a defibrillator.  People think they are dangerous or don't have the confidence to use them. It's heart-breaking.
"I've always wanted to make a difference and by teaching people how to save a life it could mean the difference between life or death for someone."
Assistant Director of Operations Ian Johns said: "What an incredible way to highlight the need to learn life-saving skills. Justin is inspiring, he has dedicated the last year to training for this challenge.
"I hope his efforts will encourage people to learn CPR and how to use a defibrillator. If someone in cardiac arrest is given a shock by a defibrillator, they are more likely to survive."
If you would like to sponsor Justin you can donate on his JustGiving page.