Kickboxing coach of teens killed in hit-and-run presents cheque to London Ambulance Service
The kickboxing coach of teenage boys who were killed by a speeding drunk driver in Hayes has presented the London Ambulance Service with a cheque for £1,000.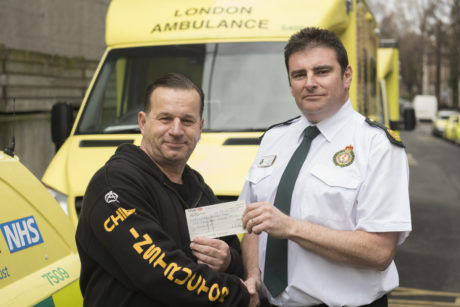 Dave Gentry taught George Wilkinson and Josh McGuiness, both 16, who died at the scene alongside their friend 17-year-old Harry Rice.
A week after the accident in January, Dave held an event at his Rock Solid Kickboxing club in Uxbridge to raise money in memory of the sporty teens.
Dave said:
"We lost three cheeky, beautiful and funny boys and we had to do something. We held a minute's silence – the whole leisure centre came to a standstill – then lit candles in the corner where the boys used to train.  

"This has been a devastating loss to the community but we wanted to do something. I felt for the ambulance crews who have to deal with terrible scenes like this.

"People are grateful for what the ambulance service does. That night and every night."
Hundreds of past and present students turned up for the special fundraising kickboxing class where all the fees – and more – were donated.
The money raised will go towards the London Ambulance Service Voluntary Responder Group which buys life-saving equipment – like defibrillators – as well as vehicles and other essential kit. It also provides first aid training for the hundreds of volunteers who attend patients in the capital. 
Ian Johns, assistant director of operations for London Ambulance Service, said:
"The tragic event that unfolded in Hayes on the night of the 26th of January changed countless lives forever – not least the parents of George Wilkinson, John McGuinness and Harry Rice.

"From time to time, we receive kind donations from members of the public but this is generous in the extreme. It is very humbling to receive and the money will help to save lives." 
The boys were on their way to a 16th birthday party with a group of friends when they were killed.