Ambulance crews treating more patients for falls in bad weather
Ambulance calls to people who have slipped, tripped or fallen are up over 10 per cent during the cold spell.
 As temperatures have plummeted this week, London Ambulance Service has seen a 13 per cent* increase in calls relating to slips, trips and falls yesterday (27 February) compared to the week before. And Monday (26 February) saw an 11 per cent** increase from the previous week.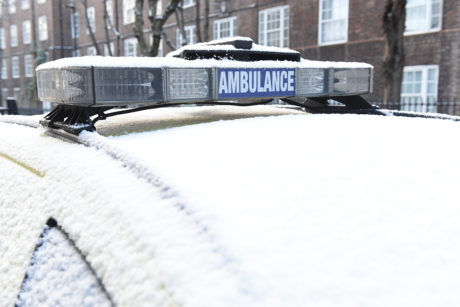 Director of Operations Paul Woodrow said: "This weather does present additional challenges for us and we have extra ambulance crews on duty and additional four by four vehicles at standby points should they be needed.
"As the wintry weather is expected to continue for the next few days, I'd encourage Londoners to take steps to stay safe and healthy, including wearing a hat, gloves, sensible shoes and plenty of layers.
"Please only call 999 if it's a genuine emergency and help us by looking after yourself. But also look after others. If you know someone who is alone and vulnerable, take the time to check on them – it might just save a life."
To reduce the risk of becoming unwell, ambulance bosses are advising people to make sure they are well stocked up on their medication; to heat homes to at least 18 degrees and have plenty of hot food and drinks and wear layers of clothing.
Ends
On Tuesday 27 February there were 360 slips, trips and falls, compared to 318 the previous Tuesday. *
On Monday 26 February there were 310 slips, trips and falls, compared to 279 the Monday before. **
London Ambulance Service advice on keeping safe and well during this bad weather:
In these conditions there is a greater risk of slips, trips and falls, so we would urge people to wear sensible shoes and take care on the roads.
Keep warm: wrap up when you head outside. Try to keep moving and heat your home to at least 18 degrees. Hot food and drinks will also keep your warm, as well as wearing layers.
Existing health conditions can get worse in the cold, so make sure you keep any medication with you.
Look out for family, friends and neighbours who may be at risk during this cold snap.
Please call 111 or visit a pharmacy for non-urgent health advice.