Young lifesavers visit ambulance HQ
Aspiring paramedics Ben Crawford and Scott Winzer have been treated to a tour of London Ambulance Service headquarters after helping two people who had collapsed.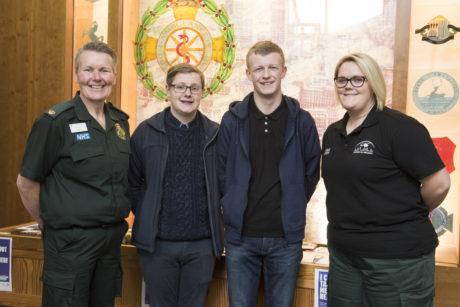 The 16-year-old cousins, who are St John Ambulance cadets, each came to the aid of people they found lying on the ground in London.
To thank them, London Ambulance Service invited Scott, from St Mary Cray, and Ben, from Belvedere, to visit.
Ben, who has been volunteering with St John Ambulance since the age of 11, said he seemed to come across a patient every month when he was off-duty.
The Trinity School Belvedere pupil said: "This time it was in December when I was walking through North Greenwich Station and saw a lady lying on the ground.
"Me being me I thought I'd go over and see if everything was ok. I then asked her a few questions and did a few observations."
Ben helped get the patient into an ambulance and did a handover to the crew. He was invited to ride along and helped  book the patient into hospital.
Ben's cousin Scott, who has been a St John Ambulance volunteer since he was 10, was on his way home from a football match when he found a woman on the floor at Victoria Station.
Scott, who attends Kemnal Technology College, said: "I came over and said that I was a St John's volunteer and offered to help.
"She had belly ache so I did some observations, took some details and did a handover to the Cycle Response Unit."
"This was the first time I'd helped a patient on my own, and it's why I'd love to be a paramedic. It would be something different every day, and I'd enjoy being on the road helping people."
Part of the boys' tour included a visit to the ambulance 999 call centre, where they were thrilled to meet Advanced Paramedic Chelsey Pike who featured on the BBC series Ambulance.
Ben wants to study paramedic science at university so he can join the London Ambulance Service.
He added: "I'll then do five or 10 years on the road and then go back and do my Master's Degree, and then become an Advanced Paramedic."
Training Manager Jules Lockett, of London Ambulance Service, said: "He gave a really good handover to the crew which allowed them to know a bit more about the patient.
"It also reassured the patient that there was someone there that knew what they were doing, and also saved further 999 calls from people who saw what was going on."
"The work we do with St John is a really good partnership and I think it's great that young people have an opportunity to practise their first aid and have opportunities to work their way up.
"When they come in as paramedics they'll already have such a good grounding."
Notes to Editors:
Picture caption: Jules Lockett, Ben Crawford, Scott Winzer, Chelsey Pike
London Ambulance Service NHS Trust is the busiest emergency ambulance service in the UK providing healthcare that is free to patients at the time they receive it.
We have over 4,500 staff, who work across a wide range of roles based in 70 ambulance stations. We serve more than eight million people who live and work in the London area.
For more information, media enquiries or interview requests please contact the Communications Department: Tel: 020 7783 2286 Email:

[email protected]