Paramedic goes to great lengths to get his dream job at London Ambulance Service
A paramedic who failed to get recruited for a specialist team at London Ambulance Service taught himself to swim so he could qualify for the role.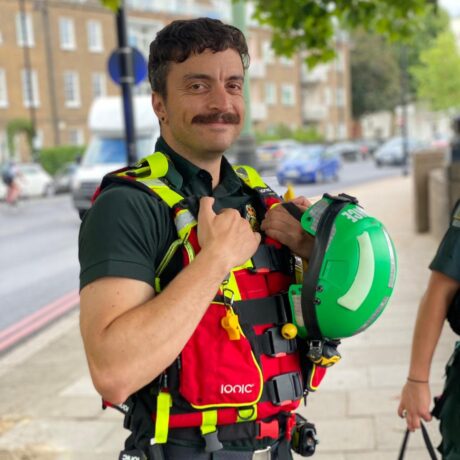 After four years working on ambulances, Han Tugcu was keen to join the Hazardous Area Response Team (HART), a group of specially recruited and highly trained paramedics who provide life-saving medical care in high-risk and complex emergency situations, such as industrial accidents and natural disasters.
To join HART, paramedics must complete a clinical exam and a fitness test, which includes swimming.
However despite growing up in Sydney, Australia – close to some of the world's most beautiful beaches – Han never learned to swim as a child.
He said: "I don't know how I avoided it but as you get older it gets harder to learn. It was embarrassing and I felt annoyed at myself that I couldn't do it.
"But I really wanted to join HART – I love working as a team in the big complex difficult jobs and I always like a challenge."
Han watched YouTube tutorial videos and visited his local pool a couple of times to try to teach himself to swim.
However this challenge proved too much – Han failed the swim test and did not get the job, despite doing well in the rest of his fitness test and the clinical skills assessment.
He admitted: "I was very stressed and very embarrassed not to complete the timed swim. I was devastated and disheartened about it."
Han was encouraged to improve his swimming and re-apply for the HART position. In between shifts, Han kept going back to the pool whenever he could, and when he re-applied a few months later, he managed to successfully complete the swimming test.
He has since spent weeks completing tough water rescue training in Cardiff as well as learning all the other skills to prepare him to treat patients in perilous situations including fires, collapsed buildings, under trains or vehicles, or other in hard-to-reach places.
Training manager Chris Gill said: "Han has demonstrated incredible fortitude in overcoming his non-swimmer status and in less than a year, deftly participated in a number of water rescue scenarios.
"He is a credit to himself and his team; and an inspiration to others."
Like all HART paramedics, Han is also trained to respond to chemical incidents, terror attacks and other high risk jobs.
He added: "The opportunities and variety you get working as a paramedic in London surprise me every day.
"My advice if you're thinking of joining? You only grow through challenging yourself."
If you want a challenge in 2023, consider joining London Ambulance Service. You can find job opportunities here: www.londonambulance.nhs.uk/working-for-us