London Ambulance Service honours staff and 'blue light' colleagues for national 999 Day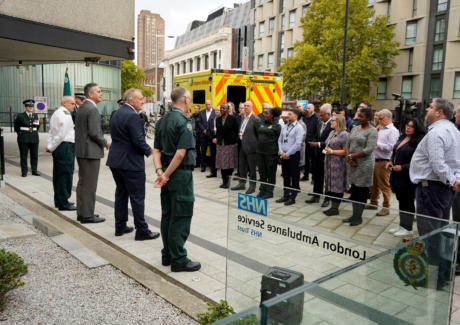 Staff and volunteers from London Ambulance Service (LAS) joined the national celebrations and tributes to mark Emergency Services Day today (Wednesday 19 October).
The Service honoured its staff, volunteers, and partners in other emergency services, as part of Emergency Services Day – also known as '999 Day' – with a touching ceremony at the Service's memorial garden at its Waterloo Road headquarters, which included a two minute silence to commemorate the colleagues we have sadly lost.
The day, supported by the Prime Minister and His Majesty The King, is an opportunity to show thanks and support for people in the NHS and emergency services.
Chief Executive Daniel Elkeles and Chair Andy Trotter led the two-minute silence in Waterloo with members of LAS's ceremonial unit who raised the ceremonial flag in remembrance of our serving staff and volunteers past and present.
Chief Executive Daniel Elkeles said:
"Our staff and volunteers provide an incredible lifeline for the people of London every second of every day – whether they are helping those in an emergency over the phone, attending incidents across our great city, or working behind the scenes – they are there for us in our greatest moment of need.
"I'm incredibly proud of the work our staff do to care for Londoners every day, and I'd like to pay tribute to every single member of our team, particularly considering the unprecedented challenges our service face post-Covid."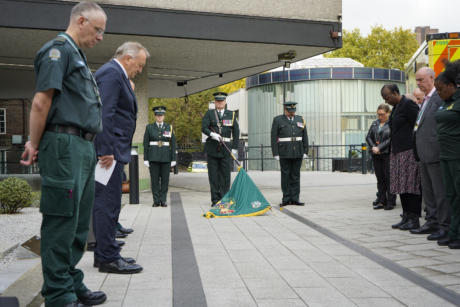 Chair Andy Trotter said:
"Today we're honouring the fantastic work of all staff and volunteers at the London Ambulance Service and that of our emergency services colleagues.
"Over the past two and a half years in particular, they have made a different to the lives of Londoners with their professionalism and I am truly thankful for their dedication and commitment."
999 Day aims to promote the work of the emergency services, how to use the emergency services responsibly and educate the public about basic lifesaving skills.
At LAS this includes the 'London Lifesavers' initiative, which seeks to train as many people in Emergency Life Support as possible so they have the confidence to step in and help a person in cardiac arrest. Please visit our website for further information on becoming a 'London Lifesaver'.
999 Day also aims to highlight the many career and volunteering opportunities available. Working for the LAS is a rewarding experience like no other, in a city like no other and there is a range of exciting vacancies available at the Service.
Whatever your role you'll be helping people who need us the most. Find out more about the opportunities available at LAS for you to develop your skills and progress your career.