A-level students walk and bake to raise funds for London Ambulance Charity
Two aspiring medics studying for their A-levels walked a marathon distance and held a bake sale to raise £795 to help support the wellbeing of ambulance staff and volunteers caring for London.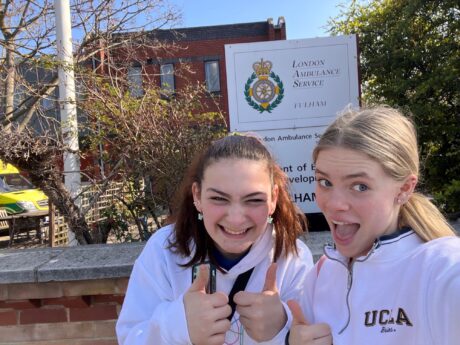 Gemma Morris and Nicole Cigna, both aged 16 and pupils at Putney High School, were inspired to take on the fundraising challenge as a thank you to staff and volunteers, and to recognise the vital role London Ambulance Service plays in saving lives on a daily basis.
The inspirational pair, who are studying biological sciences and hope to go into medical careers, walked the 26.2 mile route in just over nine hours on Saturday 26 March. A bake sale sold out in just ten minutes raising £110.
On Tuesday (10 May) Gemma and Nicole paid a special visit to the Service's headquarters in Waterloo, where they presented their charity cheque to Chief Executive Daniel Elkeles. Gemma and Nicole were also given the chance to meet medic Michelle Michael, who showed them all of the life-saving equipment and facilities on an ambulance, and took the time to explain what it's like to work for the busiest ambulance service in the world.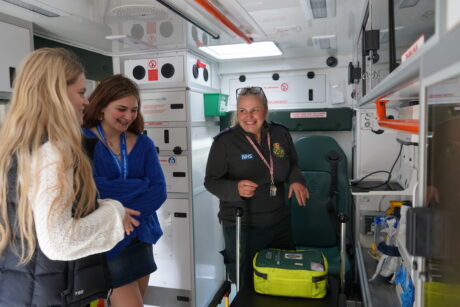 Nicole said:
"London Ambulance Service is crucial in saving people's lives every day, so we knew we wanted to do something that would help support the staff and volunteers working there.
"We were really happy that we can see that the money raised will go into wellbeing for the staff and volunteers. Working on an ambulance is a very physically and mentally demanding job and we are very happy to see that the money will help."
Gemma added:
"We heard how many calls London Ambulance Service gets a day and it's been so incredibly busy – especially during the pandemic. So we thought this would be a good charity to support, and stopped off at a number of ambulance stations along the marathon walk. We would like to say thank you to everyone who donated to this great cause and who supported our fundraising challenges."
Chief Executive Daniel Elkeles, who presented the aspiring medics with medals of recognition to thank them for their donation, said: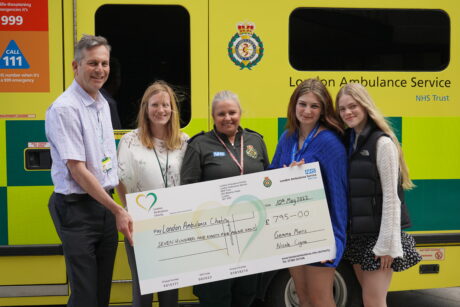 "I'd like to thank Nicole and Gemma for this fantastic contribution, which will help us continue to support our staff and volunteers going above and beyond caring for London.
"I'm also delighted Nicole and Gemma are interested in medical careers. Hopefully we will see them put their knowledge to use to help the people of London in the not-too-distant future!"
For more information about the London Ambulance Charity, and how you can take on a fundraising challenge of your own, visit www.londonambulance.nhs.uk/charity.