Refurbished London Ambulances reach destination in Ukraine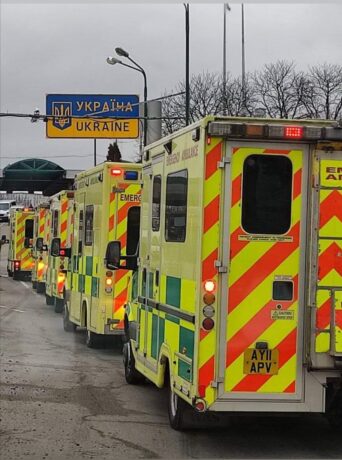 A convoy of 10 reconditioned ambulances filled with medical supplies are now in use on the streets of Ukraine after volunteers from London Ambulance Service drove across Europe to deliver the vehicles.
It was an emotional moment for the 26 dedicated London Ambulance volunteers, who drove 1,100 miles over three days to Eastern Poland, when they received photos from Polish Ambulance Service colleagues driving the refurbished ambulances the last few miles over the border into Ukraine itself.
Once the ambulances and vital medical supplies were donated safely at the Polish/Ukraine border, six of the volunteers stayed on for several days helping at a refugee centre in Lublin, where growing numbers of women and children arrive every day to escape the war in their country.
Now back at work, several staff spoke about their experience of the humanitarian mission to BBC News on Monday.
Charlotte Coutts, an operational delivery manager at LAS's Waterloo headquarters, said it had been hard to leave the ambulances at the border before returning straight home.
She said:
"Everyone in the ambulance service has been deeply affected by what's going on and this felt like the right thing to do. Seeing on the news what's happened with children crossing the border on their own, I just wanted to help. It's hard not to do more, but we know these ambulances will make a difference."
Paramedic Erica Greene explained how driving in poor weather conditions and on difficult roads had been tiring, but that the team 'were all totally focused on the task at hand'.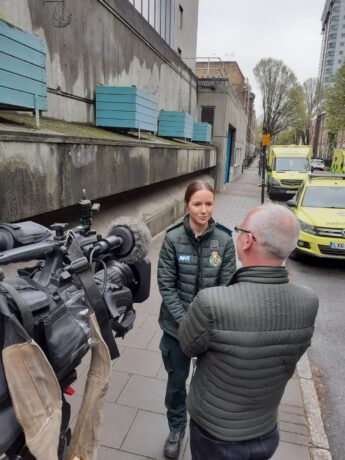 Erica also wrote a letter which was translated and left in one of the ambulances for her Ukrainian Ambulance Service colleagues.
It read:
"I've spent many hours thinking about the challenges you must be facing and want to say you are doing an amazing job. You are heroes using your skills and knowledge to help save lives. We hope this will come to an end very soon and for peace to be restored. Best wishes Erica, Paramedic, London Ambulance Service."
Eva Bartovska, Senior Sector Clinical Lead, was inspired to plan the project after seeing her aunt in the Czech Republic had taken in Ukrainian refugees. After delivering the ambulances, Eva, along with five others stayed in Lublin to volunteer at a refugee centre. They camped for five days, helping to buy and deliver humanitarian aid.
She said:
"The need was dire. We did the best we could. We bought some medicines, towels and duvets. The following day another 80 people arrived and it wasn't enough. It was heart-breaking at times.
"The journey was worth every mile. I'm so glad that we did it and that we stayed to help. Lots of the local volunteers in the refugee centre are just students, and they are doing amazing work."
LAS Chief Executive Daniel Elkeles said:
"I have been deeply moved by the scenes of terrible suffering from Ukraine and I hope these vehicles and supplies make a small, but real difference caring for those affected by the war.
Mr Elkeles thanked the 300 staff who came forward to volunteer and paid tribute to the 26 that made the journey.
"Seeing so many of our LAS family come together to provide this support has been incredible. It makes me so proud to be working with such inspiring and kind colleagues," he added.