London Ambulance staff make plea clear: We should be able to #WorkWithoutFear
London Ambulance Service is playing a vital part in a new national campaign to highlight the profound impact of physical and verbal abuse on ambulance staff and volunteers, as figures show that cases of violence against staff and volunteers reached a record high last year.
As part of the national #WorkWithoutFear campaign, London Ambulance staff and volunteers were invited to meet with Chief Executive Daniel Elkeles to share their personal experiences of abuse while on duty and their suggestions for what could be done differently, helping to create and shape a brand new action plan to bring down the number of incidents and secure the toughest possible convictions for those who commit them.
In a roundtable conversation held recently, just days before the official launch of #WorkWithoutFear, staff gathered with Daniel to explain the impact that abusive patients and their families can have. Speaking bravely and openly, these staff members (who are all being offered support and are still serving with the Service) detailed instances of being physically attacked, verbally abused, threatened with weapons, and sexually assaulted.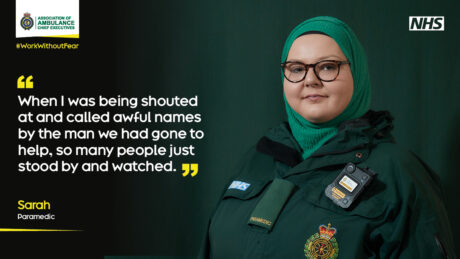 During the meeting, a 999 call handler shared the homophobic and threatening verbal abuse he had recently received, while one paramedic told the group about the time she was held at knifepoint for 25 minutes and feared for her life while performing cardiopulmonary resuscitation (also known as CPR, this is the life-saving medical procedure of chest compressions and rescue breaths performed when someone's heart has stopped pumping blood around the body). Daniel also heard from a paramedic who was attacked by a drunk patient and was left with a broken bone in his neck and, as a result, needed to take two months off work.
Chief Executive Daniel Elkeles said: "Our staff and volunteers come to work to help Londoners in their time of need. They work to save lives, help the injured and make sure people get the medical care they need quickly. They should not, in any circumstance, experience physical or verbal abuse. But sadly, that is not the reality our teams face. There are a minority of patients (and members of the public) who behave hatefully or violently towards our staff and volunteers, and that situation has to change.
"We've already put extra measures in place – such as rolling out body worn cameras to our ambulance crews so they can record abusive incidents and use footage as evidence in court, and working with the police to increase convictions for hate crimes (such as people using racist or homophobic language when speaking to our call handlers). We have also created two new roles, Violence Reduction Officers, who provide dedicated support for staff and volunteers to take their case to court, providing a link between the victim and the Metropolitan Police Service, and making sure they are supported through the process, every step of the way.
"But, we recognise that we have to do more – the roundtable conversation I had with staff has given us a really strong foundation to build on, and I – along with the Board of the London Ambulance Service – am committed to making real change."
Sadly, latest figures show that cases of physical assaults against London Ambulance Staff have risen by almost 40% since the pandemic began. During 2018-19 staff and volunteers experienced 468 physical assaults, rising to 650 in 2020-21 – that's an increase of 38%. Over the same period, verbal assaults almost doubled, rising from 695 in 2018-19 to 1,025 in 2020-21.
Director of Quality Jaqui Lindridge (who joined the Service in 2000 and has 19 years of experience as a paramedic) said: "Our medics and call handlers face stressful and challenging situations every single day, and yet, they remain calm and steadfastly professional. But that doesn't mean the threats and insults that they hear, or the physical intimidation or harm they experience, does not have a deep and lasting impact. It's heart breaking, and we will do everything in our power to stop this.
"Our staff and volunteers have the right to #WorkWithoutFear, and so as we work hard to build a new action plan, I would like to take this opportunity to publicly thank our staff and volunteers, and ambulance service colleagues across the country for all that they do. We remain incredibly grateful for their hard work in challenging circumstances, and in awe of their bravery and resilience."