Our medic features in World Cancer Day campaign
London Ambulance Service Emergency Ambulance Crew Stuart is starring in a new charity campaign to mark World Cancer Day on Friday (4 February).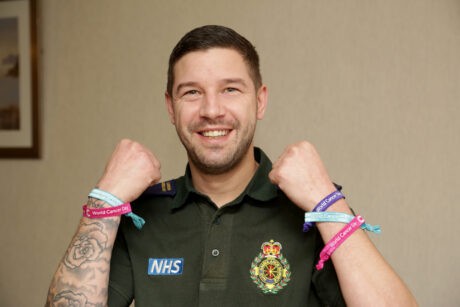 Stuart, 34, was picked to help promote Cancer Research UK after sharing his story about surviving cancer at just 20 years old.
He found a lump on his testicles but was too embarrassed to tell anyone. When he finally saw a doctor, he was told he had cancer which had spread to his lymph nodes and liver.
Stuart said: "It was like a whirlwind. I started crying and thought 'Well that's it – I'm out'. Like many people, I assumed cancer meant death. I was scared. It was probably the worst moment of my life."
Fortunately chemotherapy and surgery were successful and two and half years ago, Frankie was born – the son Stuart never thought he would have.
Now Stuart is asking Londoners to help raise money for life-saving research by wearing a Cancer Research UK Unity Band.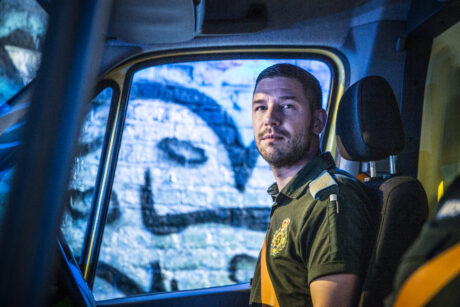 He said: "Without the treatment I had, I probably wouldn't be here today, and nor would Frankie.
"And that's down to research. I'm really grateful for the treatment that saved my life. I've been given the greatest gift of all – precious time with the people I love.
"That's why it would be great if everyone got a Cancer Research UK Unity Band. They're a simple way to show solidarity with anyone affected by the disease, while raising vital funds.
"Success stories like mine simply wouldn't be possible without the generosity of the public."
Stuart first joined London Ambulance Service as a 999 call handler and now works on the road on an ambulance, where he is working towards qualifying as a paramedic.
Stuart owes his life, thanks in part, to a clinical trial he joined – he was only selected for the trial because his prognosis was so poor.
He said: "Looking back, I'm happy I went through it because it made me what I am today. I'm happy to talk about it now, which I do to schools and groups.
"Men are a nightmare about going to the doctor but they 100% should go. Check yourself and if there's anything untoward, get yourself to the doctor.
"There is absolutely nothing to be ashamed of or embarrassed about – and it could save your life."
Unity Bands are available in Cancer Research UK shops and online at cruk.org/worldcancerday