Norman celebrates 45 years with London Ambulance Service
A London Ambulance Service Community Resuscitation Trainer is this week celebrating 45 years working in the capital's ambulance service.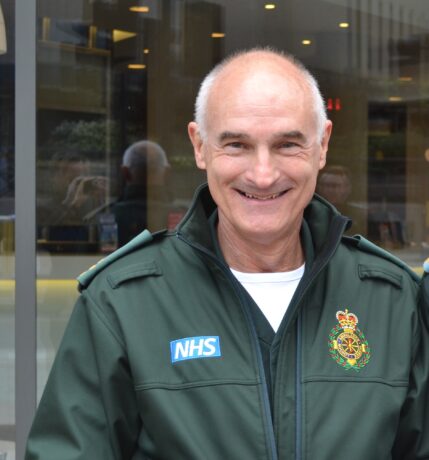 Norman Abbott followed in the footsteps of his father and two of his uncles and joined our Service in 1977. Indeed, he responded alongside his father at Lee ambulance station for 18 years as among the first father and son team in the Service.
In 1977, Norman undertook an initial training course of six weeks, out of Waterloo ambulance station, before doing a nine week additional operational training programme with a Training Supervisor.
After training Norman joined a crew mate in responding in an ambulance: out of Waterloo, Bloomsbury, and Smithfield ambulance stations.
Norman has had a number of positions at London Ambulance Service – including as an Operational Training Supervisor out of Bromley Education Centre and Operational Shift Manager at Lee ambulance station.
He's been in his current role in our First Responder department – teaching life-saving skills – for the past 17 years.
In his 45 years, Norman has seen a lot of change! He said:
"Things have certainly changed since I joined. In my time the Service moved to the NHS from the Greater London Council and we've moved from RAF blue uniforms to green boiler suits and on to the green uniform of today.
"Another significant change and something important to me in my current role was the introduction of carrying defibrillators on ambulances.
"Cardiac arrest survival has increased massively since I started in 1977 – but there's still a lot we can do, including training more people and getting easier access to defibrillators – especially in rural areas.
"I am proud playing my part in this and look forward to training many more people so they can save more lives."
Norman is passionate about his role in our First Responder department where we train individuals, community groups and organisations and businesses Emergency Life Support (ELS) skills including giving effective CPR and using a defibrillator.
He said "I've taught many people from all walks of life, many nationalities and all ages what they can do to help someone in need: in those vital first few moments when a person has collapsed and is in cardiac arrest and before my frontline ambulance colleagues arrive.
"But, I want to train many more. Anyone can save a life and we never know when we may need to. It's a great feeling knowing the training my colleagues and I have given may have helped to save a life."
Antony Tiernan, London Ambulance Service Director of Communications and Engagement added:
"It is incredibly special to have someone in our team who has been with us for 45 years and Norman's service to our patients and communities is nothing short of phenomenal.
"His work in our First Responder Department as we aim to recruit thousands of volunteers across the capital who have received emergency life support training into our London Lifesavers initiative is just the latest vital role Norman has undertaken in service of Londoners.
"Congratulations, Norman and thank you for all you do."