An open letter to London and Londoners from our new Chief Executive on 999 Day
As the country marks 999 Day, I would like to pay tribute to the dedicated staff and volunteers at London Ambulance Service and to all our emergency services partners who support us in our work. We also remember the ten colleagues who have died from the virus during this pandemic, as well as their families and friends.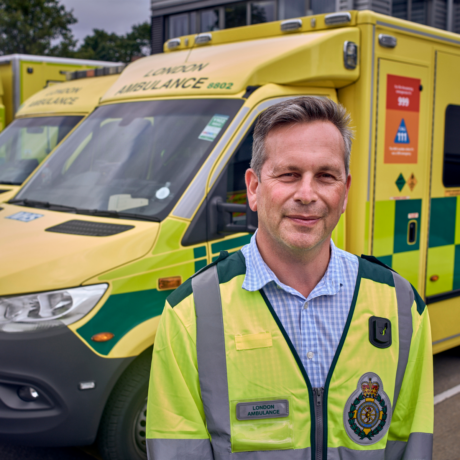 I am extremely grateful to everyone – from our call handlers and ambulance crews to our fleet teams and corporate staff – who continue to work so hard caring for this city of more than nine million people. We know they've worked tirelessly and continue to give their all to Londoners after 20 months of responding to COVID-19 and associated pressures.
Our staff and volunteers, alongside other health and social care workers, have had to cope with so many changes to how we work, wearing hot and restrictive PPE, enduring lengthy separations from family, and losing loved ones and cherished colleagues to the virus.
Throughout, it has taken almost superhuman effort to maintain the strength and professionalism to be there for London when it needed us most.
For London Ambulance Service, our winter has arrived early. July was our second busiest month ever and at peak times we were receiving calls every seven seconds to our 999 and 111 control rooms. We've also just had our busiest August.
We are planning for one of our longest winters. It's going to be gruelling for everyone in our Service but I know we will not stop going the extra miles. I'm determined to do all I can to support our people to deliver the best possible care for our patients.
To all London Ambulance Service staff and volunteers on this 999 Day: thank you for all you do. I am inspired by your passion and dedication and look forward to supporting you in the important work we still have ahead of us.
Daniel Elkeles, London Ambulance Service Chief Executive