Chief Midwifery Officer for NHS England hears about how we are improving maternity care for women across London
Professor Jacqueline Dunkley-Bent OBE, Chief Midwifery Officer for England, and lead midwifery colleagues from London and NHS England, met with teams across London Ambulance Service yesterday (29 March) to learn about how we are improving the care for mothers, their partners and babies.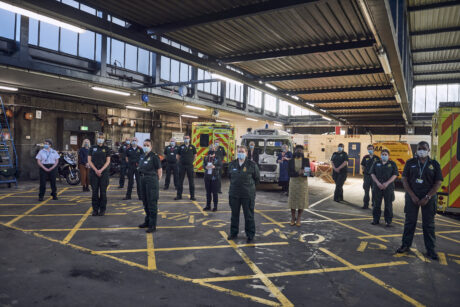 Consultant midwife Amanda Mansfield and the maternity team spoke with Professor Dunkley-Bent and her team about how they have developed and delivered pioneering educational resources for staff and volunteers – from those working in the control room to patient facing clinicians. This training helps staff and volunteers learn about the potential challenges during birth, and ways they can improve the care and safety for women and their babies.
In return, Professor Dunkley-Bent then presented a prestigious Chief Midwifery Officer's Gold Award to Ms Mansfield to recognise a lifetime achievement in midwifery.
Amanda has been a midwife for over 30 years. Before her current role at LAS she worked as a strategic midwifery and maternity leader at the Royal Free Hospital in London and at Stoke Mandeville, Wycombe and Wexham Park Hospitals. Her work at LAS has been instrumental in helping make sure mothers, babies and their partners receive the best care for their needs across London.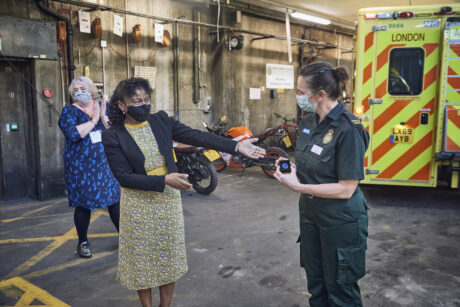 Professor Dunkley-Bent said: "It was an absolute privilege to give Amanda Mansfield a gold Chief Midwifery Officers award for her impressive, ground breaking, midwifery contribution to  the  London Ambulance Service, serving women, babies and their families in the capital 24 hours a day every day"
Professor Dunkley-Bent presented 'stork badge' awards to Emergency Medical Dispatchers Hannah Morphew, Molly Dickson and Eliza Cooke. These badges are awarded to 999 call handlers who take an emergency 999 call for a baby being born imminently and, using telephone protocols, provide the necessary guidance to support the safe delivery of the a baby whilst the ambulance is on the way. Professor Dunkley-Bent heard from staff about how we safely assess and manage these emergency maternity calls and heard about our important work at 111 working with GPs and maternity units across London.
Chair of London Ambulance Service, Heather Lawrence OBE, said: "We were delighted to welcome Professor Jacqueline Dunkley-Bent and the regional leads for midwifery to our HQ. It was a great opportunity to show them the innovative ways the Service is enhancing the provision of maternity care for women and their families across the capital – over the phone and by their side.
"I was delighted to be there when Amanda was awarded with the Chief Midwifery Officer's Gold Award, what an honour. A true credit to her and the teams' pioneering work in urgent and emergency maternity care, recognising the incredible effort she has put in to improving the care of women and how she supports our staff in doing so."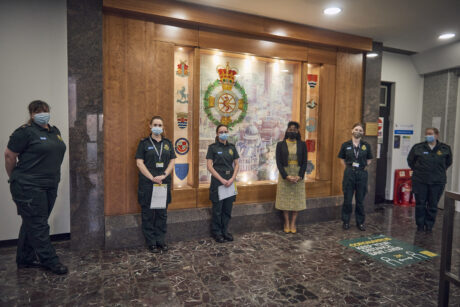 During the visit the Chief Midwifery Officer also had the opportunity to tour an old ambulance and learn about the history of maternity services at LAS and how technology and training has advanced in recent years.