We pay tribute to member of staff who passed away suddenly
It is with immense sadness that we announce the death of our friend and colleague Ben Woodhart, who has died suddenly and unexpectedly.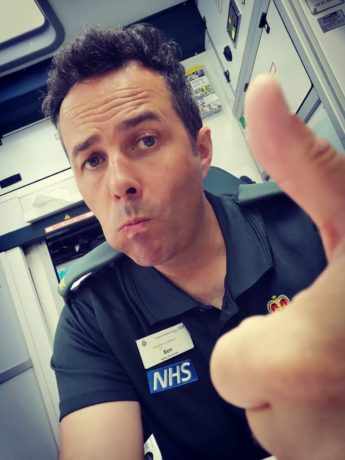 Ben was taken unwell on Tuesday night (5 May) before sadly passing away. He was 48.
Ben joined the London Ambulance Service in August 1999 and served more than 20 years.
He started at Isleworth and later moved to Twickenham where he was a regular member of the Twickenham Stadium LAS event medical team.
In 2015, he moved to a post in our Operational Placement Centre at New Malden. He was a key member of the Clinical Audit and Research Unit (CARU) and in recent years in a part time role became renowned for fantastic infographics to help present complex information.
We will remember Ben's passion for the work of London Ambulance Service. He was a hugely respected and enthusiastic member of the LAS family whether supporting the union, or playing an instrumental part establishing our staff Facebook forum.
He will be greatly missed.
Our thoughts and deepest condolences are with his wife Melody and three children Lily, 18, Freya, 13, and Sonny, 10, at this incredibly difficult time.
Some words about Ben from Chris, Ben's brother in law:
Ben was a husband to an adoring wife, a father to three wonderful, clever, creative and powerful children, a brother to two sisters, a devoted son, an amazing uncle and a true friend.

Ben was also a superhero. Not in a Marvel film type of way, with a cape furling in the wind and pants pulled high over his tights, but in a caring, thoughtful, strong and compassionate way.

Ben was a man who could bring laughter to any occasion. He could bring light to the darkest of moments. He could bring power and strength where the body and mind felt its weakest. He was an emotional support to his wife, his daughters and his son. If anyone ever needed a person to ask for advice, or help, he would not point you in the direction of it, he would give it.

We have all been touched by his generosity of love, and this will remain with us all forever. We have memories of stupid costumes and hats, silly faces and funny stories. These will never fade.

He has only left us so he can watch over us and check we are all safe.

We love you Ben and will never, ever forget you.