Mayor of London takes 'virtual tour' of our training of firefighters supporting us during the coronavirus
This week, Sadiq Khan the Mayor of London, was shown around – video video call – the training London Ambulance Service is giving to firefighters at Wembley Stadium.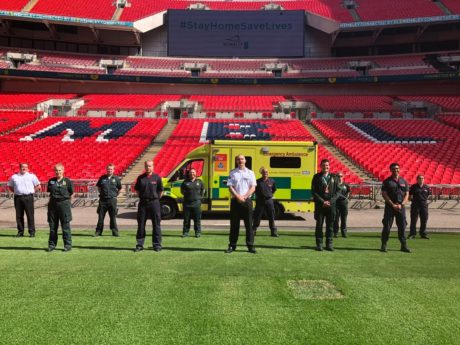 The Service and London Fire Brigade announced a new partnership to boost the Covid-19 emergency response at the beginning of April, which sees firefighters helping with a number of roles across the ambulance service.
The Mayor's visit on Wednesday took place on video call for social distancing reasons but Jason Hallahan, from the London Ambulance Service team training London Fire Brigade firefighters, walked Mr Khan around the set up and showed him how our teams are ensuring the firefighters are ready to help us respond to patients during the coronavirus.
The Mayor was shown firefighters receiving training on vehicle familiarisation, manual handling and driver training – before talking with our chief executive Garrett Emmerson and LFB Commissioner Andy Roe.
As a fellow blue light service, the London Fire Brigade is perfectly poised to support us in getting Londoners the help they need quickly during these unprecedented times.
Having been previously trained by London Ambulance Service clinicians in basic life-saving skills, and qualified to drive emergency vehicles on blue lights, each London firefighter who has volunteered to help us is receiving the training the Mayor was shown to support our skilled paramedics on the road.
Firefighters are co-crewing ambulances with London Ambulance Service clinicians – and on the day of the Mayor's visit we dispatched a co-LAS and LFB crew to 347 calls.