"If it wasn't for the London Ambulance Service, my wife and daughter, I wouldn't be here now."
A man has been reunited with staff from London Ambulance Service who saved his life after he collapsed at home in cardiac arrest.
Andreas Kallis, 68, and his family visited Walthamstow ambulance station recently for the opportunity to meet and personally thank all those involved.
His wife Tina, 63, recalls the moment her daughter, Christina, 37, alerted her to Andreas's collapse at their home back in February 2018: "All of a sudden my daughter came to me and said: 'Mum, I don't know if dad's asleep or ignoring me'."
After running into the sitting room and checking if he was breathing, they immediately dialled 999. They spoke to Emergency Call Coordinator, Fran De Wet, working in the London Ambulance Service control room, who started directing them through cardiopulmonary resuscitation (CPR).
"Fran told us precisely how to do CPR and the rhythm as well. I did so much better than I thought and that's because of her help."
An ambulance was quickly dispatched and London Ambulance Service paramedic crew Esme Choonara and Amanda Gowing responded to the scene.
They managed to get a pulse and rushed Andreas into Barts Heart Centre at St Bartholomew's Hospital, where with the help of doctors and nurses has made a full recovery.
At the emotional reunion Andreas and Tina were joined by Fran, Esme and Amanda.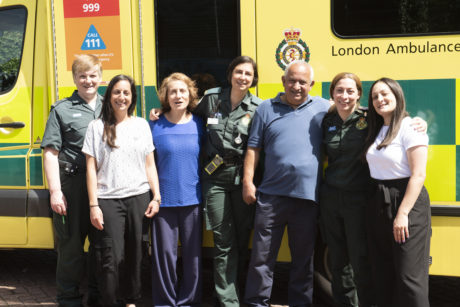 Andreas said: "I must be really lucky to survive. If it wasn't for the London Ambulance Service, my wife and daughter I wouldn't be here now. It was wonderful to be able to thank them all personally."
Call handler Fran said: "This is why we do the job. That feeling of knowing that something you've done has really helped someone and their family."
"In over twelve years working for the Service I have taken several cardiac arrest calls. But I have only ever received three letters to tell me that those patients have returned to normal life and have walked out of hospital. So to actually meet Mr Kallis is truly amazing.
"The whole experience has been overwhelming – I promised I wouldn't cry but I did."
The family wants to raise awareness of the importance of the general public learning lifesaving skills such as CPR. Tina said: "I had done a bit of CPR training years ago, but you never really think that something like this is going to happen to you.
"I just feel so good that I was able to help save him."
"We are so grateful to all of the ambulance staff and everyone at St Bartholomew's Hospital, the nurses, the doctors and the police who also attended that day. It feels like it is the closure we needed. To thank them and to see them in lovely surroundings not in that traumatic, horrendous way."
ENDS
Notes to editors:
Cardiac arrest is when the heart stops pumping blood round the body. Every second counts and it is vital the patient receives immediate life-saving attention in the form of chest compressions and early defibrillation.
London Ambulance Service typically reaches patients in cardiac arrest in seven minutes but early intervention will give the person the best chance of life. Two thirds of people in cardiac arrest in London were given CPR by a passer-by or a relative last year.