Our Consultant Midwife receives national midwifery honour in first for pre-hospital care
Amanda Mansfield, the Service's Consultant Midwife has received a national award from the Royal College of Midwives (RCM) for her contribution to midwifery.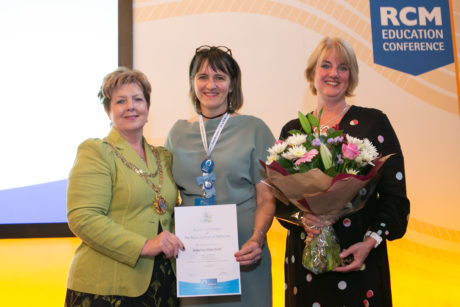 The RCM Fellowship is an honour given to just a handful of midwives each year.
Amanda received the honour last night at a ceremony at the Royal College of Midwives Education Conference in Bath and is the first midwife working in pre-hospital care to receive the fellowship.
Commenting on receiving the award, Amanda said: "I feel so honoured to be the first pre-hospital midwife to be recognised with a RCM fellowship.
"For many women, pregnancy and birth are normal life events, however occasionally emergencies do occur and they need to be managed quickly to ensure the safety of both mother and baby. It has been a great privilege to work on developing this emergency care and also help improve the support and training for emergency service staff in this area."
Dr Fenella Wrigley, Chief Medical Officer for London Ambulance Service said: "Receiving this award is a wonderful achievement and recognises Amanda's dedication, hard work and commitment.
"Amanda has not only been instrumental in developing our maternity service, a key part of our five year strategy, but her work has helped to improve the maternity care we provide for women and their families."
Amanda leads a team of midwives at the Service who have developed and delivered pioneering educational resources for emergency services staff – from those working in the control room to patient facing clinicians. This improved training is helping to make sure mums and babies receive the best care for their needs.
Amanda also led on the development and implementation of a Pan London Pre Hospital Maternity Assessment and Screening tool, enabling clinicians to recognise when women who become unwell during pregnancy require emergency assistance.
Amanda has been a midwife for over 30 years. Before her current role she worked as a strategic midwifery and maternity leader at the Royal Free Hospital in London and at Stoke Mandeville, Wycombe and Wexham Park Hospitals.
From our archive – Amanda's blog from June 2018 on maternity training in the Service and how it is improving the care for mums, their partners and babies across London.