Taxi drivers get life-saving training for ambulance pilot scheme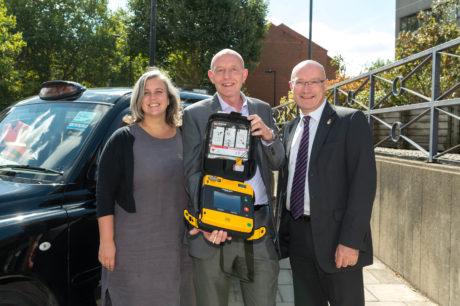 London Ambulance Service is training taxi drivers to help save the lives of cardiac arrest patients in the capital.
Paramedics have taught cabbies to perform cardio-pulmonary resuscitation (CPR) and fitted their black cabs with defibrillators as part of a six-month pilot scheme in partnership with the Licensed Taxi Drivers' Association (LTDA). 
Chief Executive Garrett Emmerson said: "London Ambulance Service has set up this scheme with the Licensed Taxi Drivers' Association as part of our ongoing work to increase CPR training and the number of defibrillators in the community to help save even more lives.
"More than half the patients who are defibrillated by members of the public before the arrival of ambulance crews survive to be discharged from hospital. While we get to patients reported to be in cardiac arrest in an average of less than six minutes, it's those vital first few minutes that can make the difference between life and death."
The LTDA approached London Ambulance Service to explore how its cabbies – who were keen to help – could be trained to save lives before the arrival of medics. As a result a pilot scheme was set up where cabbies volunteered to receive training in lifesaving skills from London Ambulance Service.
Participating London taxi drivers have also installed the GoodSAM app on their mobile phones. When a 999 call is made for a cardiac arrest patient, an ambulance is dispatched immediately. At the same time, these taxi drivers – and other registered first aiders – are alerted by the GoodSAM app if they are close to the patient.
Although London already has one of the best cardiac arrest survival rates in the world, when a person goes into cardiac arrest, every minute they wait for life saving medical attention decreases their chances of survival by about 10 per cent. The quick response of members of the public such as taxi drivers will help improve survival rates.
Cabbie Shaun O'Meara, a former paramedic, said: "The training we have received has been excellent. All the drivers are confident and excited to be part of this innovative scheme. Most of us will have come across someone who is very ill – we just want to be able to help."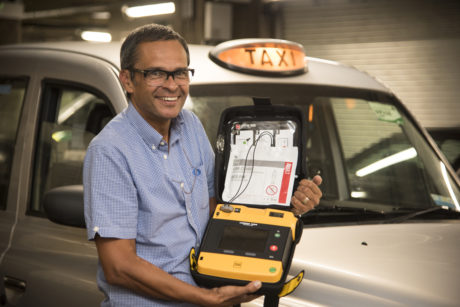 Half of the 30 drivers taking part in the pilot scheme are carrying defibrillators, while the other half are relying on the GoodSAM app telling them where the nearest public access defibrillator is located. 
Steve McNamara, General Secretary of the LTDA, said: "We are proud to have teamed up with London Ambulance Service to train black cab drivers to respond to GoodSAM alerts.
"Cabbies already go the extra mile to help look after Londoners, but this life-saving training is already making a big difference, giving them the confidence, skills and equipment they need to act in a medical emergency."
Deputy Mayor for Transport, Heidi Alexander, said: "London's black cabs already provide a unique service for residents and visitors all across our city.
This innovative new partnership with London Ambulance Service could make a difference by literally saving lives. For victims of cardiac arrest, every second can make a difference, and I'm delighted that London cabbies are using the latest technology to play their part supporting the vital work of London Ambulance Service."
The pilot is due to end in October, when a decision will be made whether to roll out the scheme.