Emergency Ambulance Crew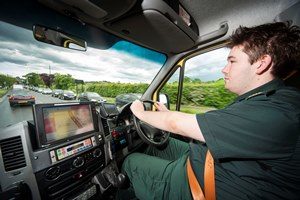 Our Emergency Ambulance Crews (EAC) support and work alongside Paramedics and technicians.
Are you a good communicator, able to work with people from all walks of life? Can you handle stressful situations? And are you flexible in your approach? Do you have basic computer skills? Do you have GCSE English and Maths grade A-C?
You don't need a medical background for this role. After 22 weeks of paid training you will deliver emergency and urgent care to patients and members of the public.
Working as Emergency Ambulance Crew in London will give you a sense of satisfaction that is found in very few other jobs.
What training do I get?
You will complete a 22-week training course based on elements of the FutureQuals' level 4 Diploma in Associate Ambulance Practitioner, including clinical knowledge and care, lifting and handling, and blue light driving. This award is regulated by Ofqual and the learner outcomes determined by Skills for Health and the Association of Ambulance Chief Executives (AACE). New staff recruited as trainee EACs will receive 12 weeks of classroom based training and six weeks of placement which will include learning about:
Introduction to the human body and medical terminology
Anatomy and physiology of the major body systems
Health and illness and the specific care of various conditions
Patient assessment and examination
Resuscitation and the use of defibrillators
Wound care
Ambulance equipment
Manual handling and moving
Infection control and prevention
Major and serious incidents
Scene management
Included will be a four-week driving course to the standard of the FutureQuals' Ambulance Driving qualification and will incorporate:
The system of vehicle control
Cornering
Overtaking
Skid avoidance
Speed and safety
Motorway safety
Also included is the Ambulance Emergency Response Driving (AERD) or 'Blue Light Driving'.
As a Level 4 programme you will undertake written assessments, the vast majority of which will require you to evidence and submit work based on all of the learner outcomes and the assessment criteria of FutureQuals, which will take you a year to complete. These learner outcomes are available to view on the FutureQuals website.
What benefits will I receive?
You will be paid £18,570 as you train, rising to £28,179 inclusive maximum after training plus annual increments inclusive maximum.
You will also be able to take advantage of other benefits which are listed on our Benefits page.
How do I apply?
To apply for this role you will need to register with NHS Jobs and complete the online application form.