Our estates vision
In our organisation strategy, which was agreed by our Trust Board in 2018, we highlighted how we plan to transform our estate to better serve our patients and to improve our staff and volunteers' places of work.
This will also reduce our costs and be better for the environment.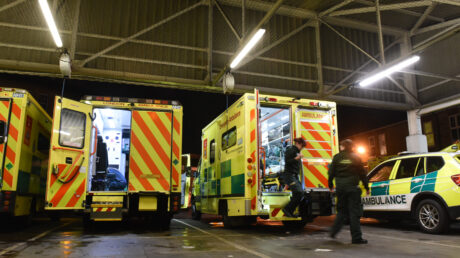 Being smarter with how we plan and run our estate will help us to use our space and time efficiently, whether this be where our ambulance crews start and end their shifts, delivering state of the art training or in our management and leadership roles.
Our estates vision which was agreed by our Board in 2019, involves:
A new model for our operational estate – enabling rapid and efficient preparation and deployment of our ambulance crews and responders while also providing the right facilities to support ambulance crews and others during their work
Innovative, state of the art, training and development facilities – involving both dedicated training centres and the ability to be mobile in providing our training – in locations that are right for our staff and volunteers
Resilient, high quality, control centres – providing effective working environments with the necessary capacity and resilience to respond to incidents
Transformed corporate estate – that provides a far better office environment that supports effective individual and team working while reducing costs by more efficient use of office areas
In focusing on providing the best possible working environment for our staff and volunteers through these changes, we hope this will enable us to achieve our vision of being a first-class employer and a world class ambulance service for our patients across London.
Building on the recommendations of Lord Carter's Review

In 2018 Lord Patrick Carter produced a report on the 'Operational productivity and performance in English Ambulance Trusts: Unwarranted variations'.

The report looked into ambulance productivity in England with nine recommendations to improve patient care, efficiency and support for frontline staff who have responded to a significant rise in demand for ambulance services in recent years.     

We welcomed the report and its findings, with many of the recommendations aligning with our five-year Trust strategy and we agreed to look to embed the recommendations into our business planning process.

This includes recommendation eight, which highlights the need to review our estates to match modern demand and optimise our corporate services functions through improved collaboration.

Ambulance Deployment Centres (ADCs)

Through our Ambulance Operations Modernisation (AOM) programme we are developing exciting plans to consolidate, transform and modernise our operational estate.

This programme will develop and implement our Estates Vision and will look to replace 68 highly dispersed sites with fewer but larger, high quality "hub-based" Ambulance Deployment Centres (ADCs) across London, which are fit for a modern 21st century ambulance service.

The COVID-19 pandemic has shown how our existing buildings and facilities, some of which date back to the Victorian days of horse-drawn ambulances in the 1880s, are fundamentally unfit for purpose for a modern 21st century ambulance service.

As a fully mobile service, where most of our ambulances respond to patients from strategic stand points across London rather than from ambulance stations directly, we need to ensure our ambulance stations are designed to support our crews to get back on the road and out to our patients as quickly as possible at the start of every shift.

Our state-of-the-art ADCs are designed to have modern, fit for purpose facilities for all of our staff and volunteers – including full ambulance 'make ready' and vehicle maintenance facilities and enhanced staff wellbeing, training and development facilities. We believe this will improve the standard of care we provide to our patients and promote a more supportive and inclusive operational culture for our staff and volunteers.

Other ambulance trusts across the country have already implemented a similar operating model.