London Ambulance Service chief paramedic appointed as visiting professor in Paramedic Science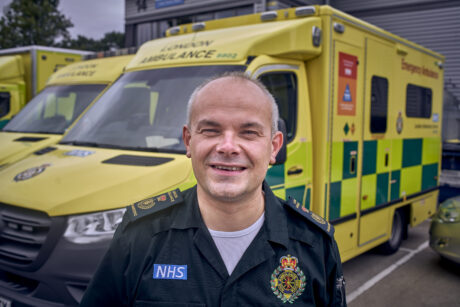 The most senior paramedic at London Ambulance Service (LAS) has been appointed to a prestigious teaching post at his former university where he will share his experience with the next generation of paramedics.
Chief Paramedic Dr John Martin has been appointed visiting professor in Paramedic Science at the University of Hertfordshire. It is the second honour this week for Dr John Martin who was awarded His Majesty's the King's Ambulance Service Medal for distinguished service in the monarch's Birthday Honours last weekend.
Dr John Martin, Chief Paramedic and Deputy Chief Executive at London Ambulance Service, said:
"Being a paramedic is an incredible and satisfying career and I'm delighted to return to the University of Hertfordshire as a professor where I completed my original Paramedic Science degree over 20 years ago.
"The paramedic role has evolved dramatically over the last two decades and there is now an incredible wealth of experience, and expertise within the profession, as well as career development and board-level opportunities."
In 2021 Dr Martin was appointed the first Chief Paramedic at London Ambulance Service, a newly created role which brings together responsibility for clinical quality and for ensuring paramedics and ambulance clinicians have access to world-class training, education and professional development.
In this role, he has overseen accountability for emergency preparedness, resilience and response during Her Majesty the Queen's funeral.
He was invited to be the paramedic advisor to the emergency medical committee during the London 2012 Olympics games, supporting expert provision on the field of play.
Also among his many career highlights, Dr Martin has given evidence in both the House of Lords and at the Commons Health and Social Care Select Committee.
Daniel Elkeles, Chief Executive at London Ambulance Service, said:
"John is a fantastic role-model for others in the NHS and I'm so pleased that he continues to inspire the next generation of paramedics and leaders in the London Ambulance Service and wider ambulance workforce.
"We are very lucky to have someone who is so passionate and inclusive about developing others starting out in the profession and helping to shape the skills and knowledge that our medics need to serve the people of London."
Many graduates of the University of Hertfordshire go on to have successful careers at London Ambulance Service.
Each year we recruit around 500 paramedics, 50 percent of whom are recruited through apprenticeships and Paramedic Science degrees in the UK, with the rest of the paramedic workforce recruited internationally and from other NHS organisations. The Service is hoping to recruit over 1,400 frontline staff, including paramedics, as part of its 2022-23 recruitment programme.
For more information about career opportunities at London Ambulance Service visit our careers page on our website.