London Ambulance Service Defibrillator Accreditation Scheme
What is a cardiac arrest and what is a defibrillator?
When someone suffers a cardiac arrest, the heart stops. Blood is no longer being pumped around their body and they are clinically dead.
The longer they go without emergency life-support, the harder it is to restart their heart. That's where you can make a difference.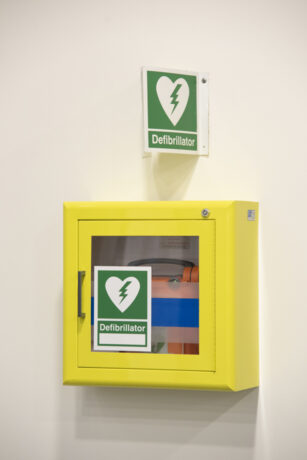 A defibrillator is a machine used to give an electric shock to restart a patient's heart when they are in cardiac arrest. If there were more public access defibrillators, more people could get the life-saving shock as quickly as possible, giving them the best chance of survival.
The London Ambulance Service's defibrillator accreditation scheme offers you formal guidance and support in buying, storing and using a defibrillator. This page provides you information on the requirements for defibrillator accreditation.
Why defibrillators are important
London Ambulance Service's Chief Medical Officer Dr. Fenella Wrigley:
"A cardiac arrest is a serious medical emergency when someone's heart has stopped beating. Over 10,000 people in London suffer a cardiac arrest every year. When this happens, every second counts and the key to survival is early chest compressions and early defibrillation.
"More public places need to have defibrillators. They are safe and simple to use and can significantly increase a person's chances of survival.
"Making sure the public has easy access to defibrillators and the knowledge of basic life support skills will only help to save more lives."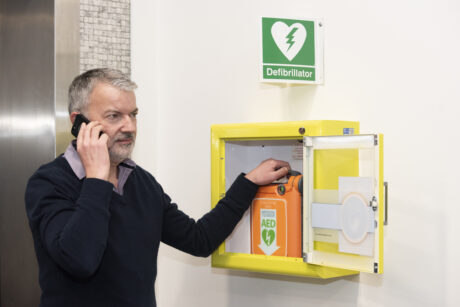 Criteria for accreditation
To become accredited as part of the scheme, you must meet all of the criteria detailed below:
1. Defibrillator – this must be a semi or fully automatic defibrillator operating according to the latest UK Resuscitation Council guidelines. Items such as the battery or defibrillator pads must be within their expiry date.
2. Storage – the defibrillator must be easily accessible and not locked away. The storage cabinet should be highly visible and its location marked with the UK standard defibrillator sign.
3. Training – staff at the location must be trained in using the defibrillator and training should be refreshed on an annual basis. An up-to-date list of trained staff and their certificates must be available.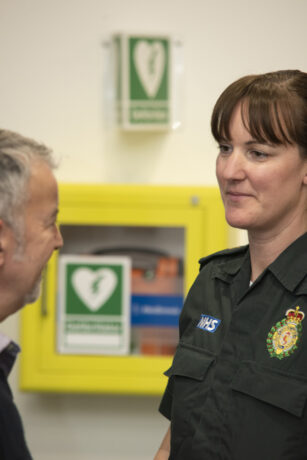 4. Checking – you must record that the defibrillator has been given a visual check at least once a week and a 'switch-on' test at least once a month.
The outcome of these checks must be recorded. Each location should have two nominated people who take responsibility for the defibrillator and their contact details should be provided to the London Ambulance Service.
5. Alerting – the accredited organisation must provide at least one telephone number so that the London Ambulance Service can advise of any serious emergency calls made near the defibrillator.
Accreditation will last for two years and you should contact us to renew your accreditation.
Read more on these criteria in the below drop-down boxes: