Responding to less serious calls
We work hard to offer other care options for our patients who do not have life-threatening or serious injuries or illnesses. Many of our patients do not need to be sent an ambulance using blue lights and sirens, and may receive more appropriate medical care somewhere other than a hospital.
Clinical telephone advisors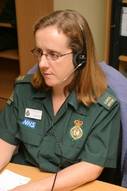 One of the alternative care options that we offer is through our clinical telephone advice team, which is made up of experienced paramedics who provide medical advice over the phone to patients.
If an incoming call is not categorised as life-threatening or serious, details will be taken and a member of our clinical telephone advice team will call the patient back and carry out a further assessment.
They then offer advice on the best course of treatment for the patient—this could be care at home, being referred to a doctor or local pharmacy, or having an ambulance sent to them.
By advising callers on more appropriate care options, we were able to keep more ambulances free for those patients who really needed them.
A&E support
Some of our patients who have been assessed by the clinical telephone advice team may need to be sent medical help. Recognising they do not always need the clinical skills of a paramedic or emergency medical technician, we have a team of A&E support staff who can provide basic medical care as well as a little kindness and reassurance.