Caring for you in a clean environment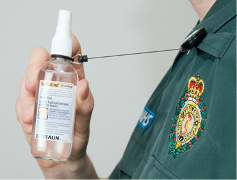 Infection prevention and control is the responsibility of every member of our staff, especially those treating and facing patients. We are committed to providing a clean and hygienic environment to treat you in.
In addressing the prevention of infections, such as clostridium difficile, MRSA and norovirus, we follow strict policies and procedures.
You can find out about these infections and what you can do to prevent them by clicking on the links below:
We have had a system of 'Make Ready' in place for some time, whereby all our vehicles used for treating patients are regularly cleaned by dedicated teams.
More information about how we deal with infection control, and our policies and procedures, can be found below.
Documents