How can I become a London Lifesaver?
How can I become a London Lifesaver?
There are different ways your organisation, group, community or workplace can get involved.
These are explained below.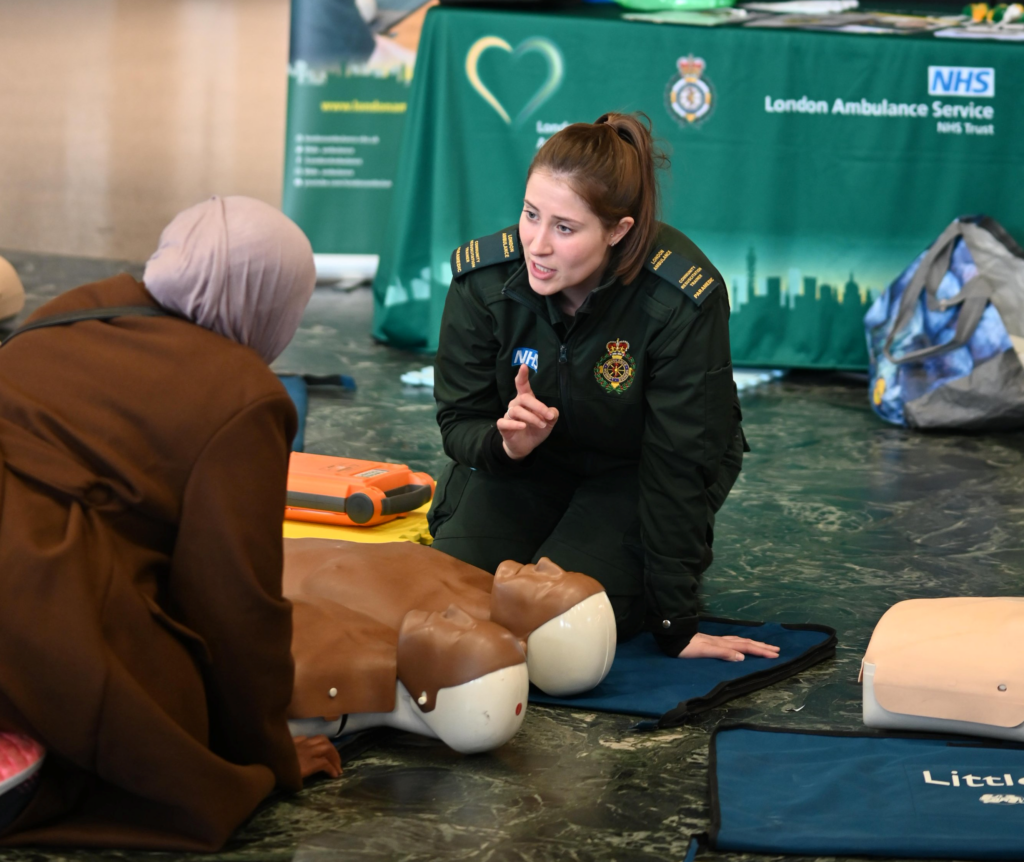 London Lifesaver Emergency Life Support training – for organisations/communities
We offer ELS training for organisations/communities who have a maximum of 10 people that require training.  This is training programme facilitated by one of our Community Resuscitation trainers.
Our trainers are qualified clinicians who also work for London Ambulance Service on the frontline.
All sessions comply with the Resuscitation Council (UK) COVID-19 guidance on training.
Please note this is a practical and informative training session and – while it's run by trained, qualified staff – participants do not achieve a formal qualification at the end, but will receive a certificate.
Content:
Heart attack -– signs, symptoms and treatment
Cardiac arrest recognition
Chain of survival
Unconscious patient – recovery position
Basic Life Support (BLS) for adults, children and infants
Choking – management
Defibrillator- safety/management.
Duration: 3.5 hours
Cost per session: £350 (if accredited via our Defibrillator Accreditation Scheme sites) or £450 (non-accredited sites). Both are VAT exempt.
We also offer two additional sessions that are delivered in conjunction with ELS training only. These are not available as standalone sessions. The content for these includes:
Control of catastrophic bleeding
Anaphylactic shock
Duration: 30 minutes per session
Cost: £50 per session.
Candidates: Maximum 10 – subject to COVID-19 room restrictions.
If you would like to book this ELS training, please contact [email protected].
London Lifesaver Community Defibrillator Scheme – our 'Train the Trainer' programme
This is an initiative run by the LAS to equip as many people across London with the knowledge and confidence in what to do in a life threatening emergency situation. Our aim is to significantly improve the chance of surviving a cardiac arrest in the community, by training members of the public to be able to deliver this lifesaving skill to a wider audience themselves: passing on their knowledge.
This scheme is ideal for larger organisations or communities who wish to facilitate their own ELS training with the support of the LAS.
As well as formal organisations and existing community groups, this could be simply you and people who live in your street or block of flats coming together to form your own 'hub' to be able to respond in your community. This means if someone in your local area had a cardiac arrest, there are people nearby who are trained – with a defibrillator – to be able to intervene in those vital first few minutes while medics are on their way.
The organisation/group or community will need to raise funds to purchase a defibrillator and training equipment. This will be a minimum of a 4-pack of 'Little Anne' CPR mannequins and a training defibrillator.  We have negotiated the training equipment at a reduced cost with a variety of suppliers to help support the scheme. Get in touch to learn more.
We recommend approaching local businesses who are often willing to support incentives in the community to assist with equipment costs. Further information can then be shared with those businesses who wish to contribute to the cost.
As part of the agreement to join the Community Defib Scheme, trainers must not charge or receive donations for the training they deliver, whether it be to an organisation or in the community.
Anyone can be trained to deliver the course, although it would be ideal if the learner had some medical/first aid background or experience of teaching. We would require a minimum of two individuals per organisation to become trainers (there is no maximum number), with the capacity to train a minimum of 100 individuals per trainer per year.
For further information please email [email protected].
Emergency Life Support Training – for individuals
For individuals who wish to learn ELS, we facilitate free basic two and a half hour sessions (this does not include children and infant basic life support).
For further information please email [email protected].
London Lifesavers is funded through a grant provided by NHS Charities Together to our charity, London Ambulance Charity.