NHS 111
Calling 999 is for emergencies only. NHS 111 is for people who need medical help and advice when not in a life-threatening situation.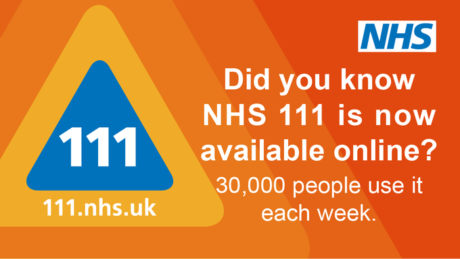 Highly trained advisors, who are supported by healthcare professionals, are available on NHS 111 24 hours a day, 365 days a year. You can call 111 or go online to 111.nhs.uk.
When should you call 111?
You need medical help fast, but it's not a 999 emergency
You don't know who to call for medical help or you don't have a GP to call
You think you need to go to A&E or another NHS urgent care service but are not sure which one is most appropriate
You require health advice or reassurance about what to do next
For less urgent needs, please contact your GP or pharmacist.
Find out more about NHS 111 on the NHS 111 website.
London Ambulance Service and NHS 111
We see the benefits for our patients of better integration between the 111 and 999 services, so we are one of the ambulance services which run part of NHS 111 in our area of operation. We have a number of staff based at our offices in Croydon who run the 111 service for south east London which includes:
Bexley
Bromley
Greenwich
Lambeth
Southwark
Lewisham
London Ambulance Service also successfully won the contract to deliver the Integrated Urgent Care (111) Clinical Assessment Service (CAS) for north east London. This includes the boroughs of:
Barking and Dagenham
City & Hackney
Havering
Newham
Redbridge
Tower Hamlets
Waltham Forest.
The new service will be an integrated urgent care and clinical assessment service with a multidisciplinary team of GPs, pharmacists, nurses, paramedics, and health advisors providing expert advice over the phone. The CAS will work closely with other urgent care services in the area as part of a bigger integrated urgent care system.
Our highly trained call handlers can determine whether your condition requires 999 assistance and arrange for an ambulance crew to attend you, or offer you medical advice which could include visiting your GP, pharmacist or local walk-in centre.
Click here to visit our Choose Well pages and find out about the other health care services available to you when it's not an emergency.