Resuscitation training courses
Have you ever thought about learning how to save someone's life? Would you know what to do if someone suffered a cardiac arrest, heart attack or was choking?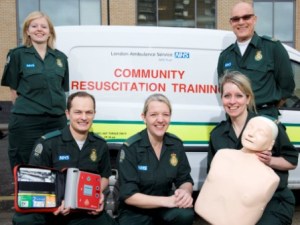 We offer free basic life-support sessions called Heartstart every month at City Hall.
The course lasts two hours and teaches basic life-support skills to enable you to give life-saving support until ambulance staff arrive. The course includes:
Possible causes of cardiac and respiratory arrest
What happens to the body during cardiac arrest
How to recognise and manage a heart attack
How to perform cardio-pulmonary resuscitation (CPR)
Putting someone into the recovery position
Treating major bleeding and adult choking
Defibrillator familiarisation.
We also provide emergency life-support training to organisations in the public and private sector at a cost.
Heartstart training
The Heartstart training initiative is coordinated by the British Heart Foundation and participants receive a certificate of attendance. If you require a certificate for work purposes, please refer to the paid courses below.
Parent-and-baby courses are delivered free of charge at community children's centres. This one-hour course covers common injuries and illnesses in infants.
In 2019, we are currently accepting applications for Heartstart training on:
Wednesday 30 January at 6pm
Friday 15 February at 6pm
Tuesday 5 March at 6pm
Sessions are held at the London Ambulance Service, 220 Waterloo Road, London SE1 8SD
If you want to find out more about our training courses, whether you are eligible for free training or how to sign up to an upcoming session please contact Antoinette Williamson in our resuscitation training team:
Telephone: 020 7783 2534 (if the line is busy, please leave a message with your contact details)
Email:

[email protected]
Emergency life-support training courses for paying clients
We also run training courses for paying clients in the public and private sectors. Courses include:
Emergency life-support
Defibrillator training
Paediatric life-support
Emergency life-support for healthcare professionals.
The money from these paid courses helps to fund training under the Heartstart scheme.
For more information please contact Antoinette Williamson in our resuscitation training team.
Telephone: 020 7783 2534 (if the line is busy, please leave a message with your contact details
Email:

[email protected]