Gurkamal Francis, Assistant Head of Clinical Audit and Research
Gurkamal joined us 14 years ago and, along with her team of 27, reviews clinical cases to make a difference to patient care.
What does your job involve?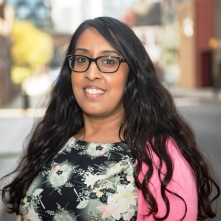 I'm a senior manager in a team of 27 people. We're responsible for reviewing clinical cases to see what went well, and what we can learn to improve patient care. This involves taking a close look at calls and patient reports.
How did you get into clinical research?
My background is in psychology and when I joined the Service 14 years ago, I started in the clinical audit programme. I learnt all of my medical knowledge I've learnt on the job – through colleagues, working with our medical directorate and going on observer shifts with ambulance crews to increase my understanding.
How does your job make a difference to patients?
Our research projects and feedback have a direct benefit to patient care. Our work has led to improvements in major trauma care which has led to better outcomes for patients: either lives saved or a better quality of life for those who have been injured. Our work also means more stroke patients are going to the right places and we're working hard to improve treatment for sickle cell patients.
What would you say to someone thinking about applying for a job at London Ambulance Service?
London Ambulance Service is a great place to grow and learn. There are a lot of training and development opportunities and you can play have a crucial role in patients' lives. It's always a challenge but I always enjoy it.