Patient Transport Service
As a member of our Patient Transport Service (PTS) you will take patients to and from pre-arranged hospital appointments.
You may also take them to other types of treatment centres such as day-care facilities and special schools, and you could pick up and deliver post between hospitals.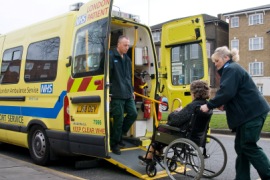 In addition, you will have the opportunity to work on special patient journeys, including transferring babies or mental health patients, and moving patients from a hospital to a hospice if they are nearing the end of life. You will receive extra training and support to manage these different situations.
PTS operates within a highly competitive market place and is required to tender for contracts to provide services to NHS Trusts. In addition to contractual, non-emergency work PTS supports other aspects of the London Ambulance Service. PTS responds to appropriate emergency and urgent calls, as well as providing support at major London public events.
The Patient Transport Service employs a variety of roles or grades such as PTS driver, ambulance person, control co-ordinator, trainer and manager. You will have the opportunity to progress through your career and could apply for other roles in the service such as Trainee Emergency Ambulance Crew, or student paramedic, subject to vacancies being available.
What training do I get?

You will receive four weeks of training, covering:

a one-week driving course
first aid and basic life support
patient/customer care and communications
lifting and manual handling
safeguarding
infection prevention and control

After your initial training you will be posted to work with an experienced member of staff on an ambulance so you can learn more through on-the-job practice.

You will begin by working with patients who are able to walk to an ambulance for transport. As you progress you will begin to work with patients with greater needs such as those who are in a chair.

Additional training is provided to staff where there may be extra requirements. For instance we will provide specific training for specialist areas such as kidney patients, children, and other specialities such as mental health.

Staff who progress onto ambulance person training will also be trained to lift patients who require additional assistance, such as those who require a stretcher.

We have a scheme of ongoing training, too. We have a yearly core skill refresher programme as well as regular training and development sessions with a work-based trainer covering topics such as

familiarisation with new vehicles and equipment
basic life-support
diversity
infection control procedures
customer service
automatic electronic defibrillator (AED) training
harnessing and securing patients and wheelchairs

You will be fully supported by the control room, your manager and other frontline crews.

What benefits will I receive?

As a non-emergency transport driver you will receive a starting salary of around £16,800. If you are a PTS ambulance person you will receive upwards of £19,655 plus High Cost Area Allowance. After training, you will also receive additional unsociable hours payments.

Take a look at the other benefits we offer.

How do I apply?

When we have vacancies for this role, we will advertise them on the current vacancies section of our website, and on NHS jobs.

Be aware that these jobs are physically demanding as you will be lifting and carrying patients as part of your role.