Use us wisely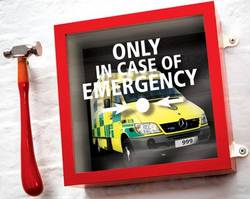 We urge the public to 'use us wisely' in order to ensure that seriously ill and injured patients continue to get as fast a response as possible. We also ask people whose call is not an emergency to consider other healthcare options rather than dialling 999. These include:
self-care at home
talking to your local pharmacist
calling NHS 111
attending a local NHS walk-in centre
visiting your GP
making your own way to your local A&E department—arriving in an ambulance does not mean you will be seen more quickly.
BBC video about demand on our 999 service
This is a BBC London TV News item about the rising 999 demand on our service, and how we are working to meet it (aired in February 2010).
Our 'use us wisely' campaign
Our 'use us wisely' awareness campaign urges the public to only call 999 in the event of a genuine emergency.
Adverts featuring the image of an ambulance in a fire alarm box were placed in the Metro, London Lite and the London Paper, and also for two consecutive weeks in more than 50 weekly papers across London.
The adverts outlined the range of other healthcare options available to those with less serious illnesses or injuries, other than calling 999.
An adapted version of the adverts ran at London Underground stations across the capital during the first two weeks of June 2008.