Schools and public education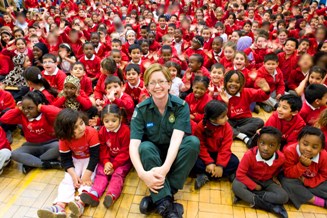 It is important to teach children about the ambulance service and what to do in an emergency, so that they know what to do if they need to call us one day.
The public education team organises special events, including junior citizen schemes, crime and safety awareness days, and school visits.
Resources
We have put together an activity pack for key stage 1 children which will shortly be available. It contains fun worksheets such as a wordsearch, dot-to-dot, colouring in sheets and maze game.
We would be keen to gather your feedback about these resources so that we can develop the pack further. Please contact us at the email address below if you have any suggestions.
Contact us
The public education department can try to arrange for local members of staff to visit your group or school to talk about our service and answer any questions you might have.  If you would like to arrange a visit please see our arrange for us to visit page.
Patient and Public Involvement Department
Units 1&2 Datapoint Business Centre
6 South Crescent
London E16 4TL
Tel: 020 3069 0383
Email: ppi@lond-amb.nhs.uk