Getting drunk is not a game
In December 2016, we ran our 'Getting drunk is not a game' campaign to show Londoners the effect drinking too much has on us as an ambulance service.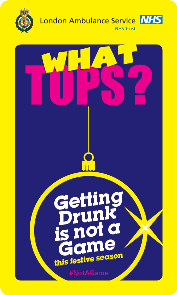 During that festive season, we launched the hard-hitting alcohol awareness campaign highlighting the impact of alcohol-related calls on the capital's other ill and injured patients.
The social media campaign illustrated how people who have drunk so much they are collapsed and unconscious can 'top' other patients as paramedics rush to treat them, leaving others to wait longer.
Alcohol-related calls are the most common need for an ambulance among 21-30 year olds across London. Startling statistics from the emergency services show London Ambulance Service responded to over 6,000* alcohol-related incidents last December, making up seven per cent of all ambulance call outs for the month.
As part of the campaign, we provided tips and advice on social media throughout December, so that party goers could look after themselves and their friends as they enjoyed their night out.
Take a look at the campaign on social media using #NotAGame and read our top tips here.