Real life trauma case study: Daniel's story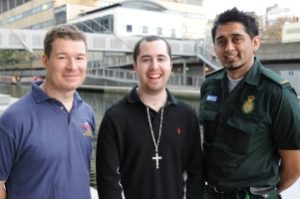 Daniel Gray, 21, suffered severe brain injuries when he lost control of his car on a wet road in Ruislip and crashed into a tree. But thanks to the immediate lifesaving care by London Ambulance Service staff, the London Air Ambulance's medical team and the specialist trauma team at St Mary's Hospital, he is able to walk, talk and play football again only ten months after the accident.
His mother Martina said: "I know for a fact that if he had gone to a local hospital, time would have been lost. It was very important that within the first hour Daniel received the correct care."
Paramedic Waseem Khan, who treated Daniel, said: "We found him lying in the middle of the road, barely conscious and with life-threatening injuries. By giving him vital on the spot treatment and taking him straight to St Mary's Hospital, by-passing his local A&E, Daniel had the best chance of survival and smaller risk of permanent disability.
"Daniel's recovery after such serious injuries is a good example of the ambulance service working together with the major trauma centres and saving more lives."