Real life: Peter's story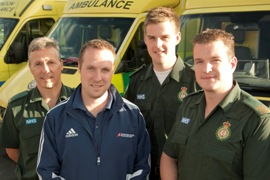 Peter Banks, 29, suffered a stroke at home on a Sunday in Hillingdon in January 2012.
PE teacher Peter said: "I'd played golf in the morning and was at home doing some filing when my vision started to lose focus. Due to my age and level of fitness, I didn't know what was happening.
"My girlfriend was at church, so I called my parents in Sheffield. My speech was slurred and they dialled 999 for an ambulance.
"I had my dad on speakerphone, but by this time I'd fallen off the couch. He told me to undo the door latch to prepare for the ambulance crew.
"It was really hard to think, but I crawled across the floor and undid the latch."
A member of staff in a response car and an ambulance crew attended. Using the FAST test, they suspected that Peter was suffering stroke.
Paramedic Sam Barton said: "We could see that he was displaying the signs, and he could not communicate very well. At that point we looked at a picture of him to find out what he looked like normally.
"It was then we decided to take him to the hyper-acute stroke unit at Charing Cross Hospital because they would have the best skills and equipment to treat a patient suffering stroke."
The ambulance crew used blue lights and sirens to take Peter to the specialist centre at Charing Cross Hospital, bypassing local hospitals on the way.
Specialists at the unit scanned Peter's brain to confirm he was suffering a stroke and gave him thrombolysis – a clot-busting drug to restore the flow of blood to the brain.
He was discharged five days later and has since returned to work at Acton High School.
Pictured here: Peter Banks reunited with paramedics Stewart King and Sam Barton, and Emergency Medical Technician Ian Philips.