Real life: Bhupen's story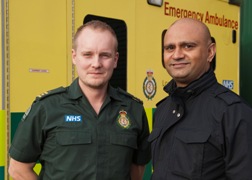 Bhupen Mistry, 42, suffered a heart attack at his home in Edgware in January 2012.
He said: "I was exercising when I felt as though I had pulled a muscle in my left shoulder. I had been exercising four to five times a week and never felt any pain or had any indication that something was wrong, so I didn't know what was happening.
"My wife told me to sit down and rest as my heart rate was very high, but after a couple of minutes when it didn't come down she called for an ambulance."
An ambulance crew attended and, following some tests, diagnosed that Bhupen was having a heart attack.
The crew used blue lights and sirens to take him to the specialist heart attack centre at Hammersmith Hospital, bypassing local hospitals on the way.
Emergency Medical Technician James Dixon said: "Being a specialist centre, we knew that taking Bhupen straight there would mean that he would receive the most appropriate treatment more quickly."
Specialists at the hospital confirmed Bhupen was having a heart attack and quickly performed a procedure called angioplasty – where the blockage in the artery causing the heart attack is reopened using a small balloon.
Bhupen was discharged from hospital two days later.