Real life: Steve's story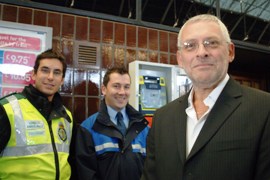 Cardiac arrest patient case study – Steve Hodder
Steve Hodder, 55, was about to board a train at London Bridge rail station when his heart stopped beating and he collapsed on the platform. He had suffered a cardiac arrest.
Steve was lucky. There are eight defibrillators placed around London Bridge rail station. These machines deliver a shock to restart a person's heart. Network Rail Station Officer Eddie McDermott was on duty that day, and was trained to use a defibrillator.
Eddie reached Steve within a couple of minutes and started to use a defibrillator to shock his heart. When Motorcycle Paramedic Jez Loseby arrived a couple of minutes later, Steve's heart was beating again.
Steve said: "I really don't remember anything of the day, just waking up in hospital sometime afterwards. If it hadn't been for Eddie's prompt action and his ability to use a defibrillator, and the care given by the ambulance staff, I wouldn't be here today."
Eddie added: "If it wasn't for the public defibrillator and the London Ambulance Service training me to use it, I wouldn't have been able to save Steve's life. I think there should be more of them in London and more people trained in how to use them."