Real life: Mary's story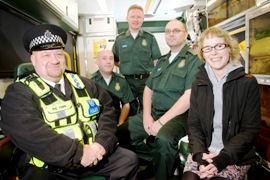 Cardiac arrest patient case study – Mary Cook
Twenty-eight-year-old Mary Cook from south London was walking along Tooley Street, London Bridge, one evening when she collapsed and stopped breathing. She had suffered a cardiac arrest.
British Transport Police Constable Noel Harmsworth was passing by with a colleague. He said: "I could see Mary lying on the floor turning blue and I knew she needed help. Someone had already called 999 for an ambulance, so I immediately started chest compressions."
Waterloo ambulance crew paramedic Alan Hedger and emergency medical technician Paul Saddington, and single responder emergency medical technician Justin Langan arrived on the scene to find Noel administering CPR.
Paul said: "Noel was giving CPR to Mary for about five minutes before our arrival, which effectively keeps a patient alive while advanced medical assistance is on the way.
"We attached a defibrillator, gave Mary's heart two shocks and it started beating again. Patients in cardiac arrest need treatment with a defibrillator as soon as possible for the best chance of survival."
Alan and Paul took Mary to St Thomas Hospital where she underwent a bypass operation. After eight weeks Mary was discharged home. She is now back working as a web designer and is moving abroad to continue her career in Germany this month.
Mary, who lives on New Park Road, Brixton, said: "I don't remember anything for a week before the incident until waking up in hospital. It's great to meet Alan and Paul again and say 'thank you'. Without the help of them, the police officers and the passer by calling 999 so quickly, I'd be dead by now."