Real life: Lee's story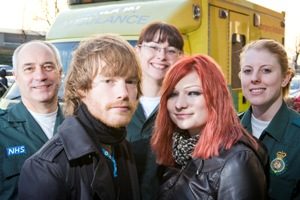 Cardiac arrest patient case study – Lee Verralls
Lee Verralls, 24, from Wells House Road, was at home jamming with friends last July when he suffered a cardiac arrest.
Lee's girlfriend Kym Burgess, 22, said: "Everything was normal when Lee just fell of his chair and stopped breathing. It was very frightening and we didn't know what had happened. Our friend Jimmy called 999 for an ambulance."
Emergency Medical Dispatcher Juliet George answered the call. She said: "Once I identified that Lee was suffering a cardiac arrest I gave instructions to his friend over the phone to start cardiopulmonary resuscitation (CPR). If someone's heart stops beating calling 999 for an ambulance and starting CPR as soon as possible gives them the best chance of survival."
Within a few minutes of the 999 call Fulham Emergency Medical Technician Daniel Crichton and Brent ambulance crew Emergency Medical Technician Emily Grist and Paramedic Dennis Brown were on the scene.
Emily said: "We arrived to find Lee in cardiac arrest and his friend giving CPR to good effect. We immediately attached a defibrillator to his heart and shocked it twice. Lee's heartbeat returned.
"Like CPR, getting a defibrillator to someone suffering cardiac arrest as soon as possible gives them the best chance of survival."
Emily and Dennis took Lee to Hammersmith Hospital. He was later transferred to St Mary's Paddington where he had an internal cardioverter defibrillator fitted and was discharged after a month.
Lee, who had no previous history of heart problems, said: "I've got no recollection of anything, just waking up in hospital a week later. It's great to meet the ambulance staff again and I am eternally grateful to them and to Jimmy for their amazing work. Now my life's back to normal and I'm back playing live with my band Headspace."
Kym said: "The ambulance staff did such an amazing job saving Lee's life, as he would 100 per cent not be here if it wasn't for them."