Real life: Erica's story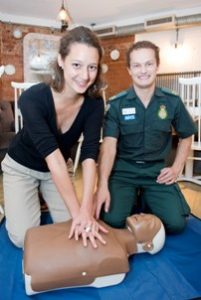 Erica Payet, 25, was jogging along Bermondsey Street on a Sunday afternoon in March when she suffered a cardiac arrest outside the Garrison pub.
Bystanders called 999 and began CPR. Three motorcycle paramedics and a crew from Waterloo ambulance station attended Erica and used a defibrillator to deliver an electric shock and restart her heart.
Erica was taken to St Thomas' Hospital and regained consciousness three days later. After having an implantable cardioverter defibrillator fitted she was discharged home three weeks after being admitted.
Erica, who lives in Borough, has now resumed her studies at King's College University.
Motorcycle Paramedic Andrew Stratton, who attended Erica, said: "Cardiac arrest is the most life-threatening emergency call we receive. When we arrived bystanders were performing CPR, which effectively doubled Erica's chances of survival. We gave her advanced lifesaving care and restarted her heart with a defibrillator."
Erica, who moved to London from her native France to take a masters degree, said: "I don't remember anything of the day, just waking up in hospital three days later. I'm so thankful to the people that stopped to help me, and now I'm better again I really want to learn CPR in case it happens to someone else."
Pictured here: Erica learns about CPR from Malcolm Ritchie (Community Resuscitation Paramedic)