Busiest night of the year for 999 ambulance staff in London
London Ambulance Service is gearing up for the busiest night of the year as the capital welcomes in 2018.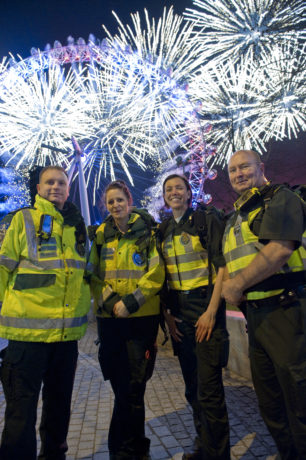 Thousands of revellers will be partying the night away across the capital this New Year's Eve and that means a surge in 999 calls.
The Service is expecting to take over 7,000 emergency calls – two thousand more than on an average day in London. Extra control room and support staff will be on duty to cope with the demand.
Deputy Director of Operations, Pauline Cranmer, said: "We've been planning all year for New Year's Eve – the busiest day of the year for the ambulance service.
"As well as more call takers answering hundreds more emergency calls, we will have extra ambulance crews on London's streets responding to patients who need our help."
A lot of the increase in demand is from party goers who drink so much they have become ill or injured.
Pauline added: "We normally see an increase in demand around 9pm on New Year's Eve reaching a peak between 1am and 4am on New Year's Day. We want Londoners to have a great time this New Year but not get so drunk they need our help.
"Too often our ambulance crews can spend much of their night caring for people who are vomiting, violent or unconscious after a night out drinking, leaving our staff unable to respond to other emergencies. Nobody wants to end up in A&E vomiting, injured or unconscious, so please take care of yourselves and your friends."
As well as responding to hundreds more patients across the capital, the Service will have medics working alongside St John Ambulance volunteers in the central London event area.
A special operations room is set up to respond to 999 calls in the event area and medics are dispatched on foot. They carry all the essential lifesaving equipment found in an ambulance on their back.
Pauline said: "Anyone who becomes ill or injured in this area, should make their way to one of the nine treatment centres.
"As we will be very busy on New Year's Eve – we're also asking Londoners not to call 999 unless it is a genuine emergency and – if waiting for an ambulance – to not call us back unless the patient's condition changes."
The St John Ambulance treatment centres in the central London area, can be found in the following locations:
Whitehall Court
Westminster Abbey – The Sanctuary
The Mall
Embankment Station
St Martin in the Field
Waterloo Station
Belvedere Road
Temple Place
Rupert Street
ENDS
Notes to editors
For interviews or more information, please call the communications team on 020 8937 2286.
On New Year's Day this year (1 January 2017) we took 6,801 emergency calls between midnight and midnight.
St John Ambulance has 200 volunteers, nine treatment centres, and 18 crewed ambulances in the central London event area.
For further information about the London Ambulance Service or this news release please contact the communications department on 020 7783 2286.
Find out more about the London Ambulance Service at http://www.londonambulance.nhs.uk or follow us on Twitter at www.twitter.com/ldn_ambulance