While you're tucking into your turkey this Christmas, medics will be out saving lives
On Christmas Day, while most Londoners will be tucking into their turkey and spending quality time with their loved ones, about 700 ambulance staff and 85 control room staff will be on duty caring for patients, as well as a number of other maintenance and support teams.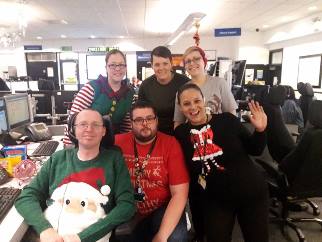 Paramedic Alex Botelho will be on shift – despite being allocated the day off. She offered to work so another paramedic who was on shift could spend the day with his children.
Alex said: "I'm from Australia and have no family here in the UK. I understand what it's like as a child to not have your parents around at Christmas. When I was a child we moved around a lot – my father was in the US military.
"I'm happy to work Christmas Day and give someone else the day off. I worked Christmas Day last year and it was very festive and, working with a crew mate, you're not alone."​
In 2016 London Ambulance Service attended 3,025 incidents on Christmas Day.
Assistant Director of Operation Peter Rhodes, who will also be working on Christmas Day, said: "Christmas and New Year is always an extremely busy time of year, but Londoners can help us by only calling 999 in a genuine emergency.
"Our priority is to get to the most seriously ill and injured as soon as possible. Anyone calling with less serious injuries potentially delays a response to a more serious call.
"We would ask people suffering from less serious problems to ring NHS 111 for advice, or when possible to visit their pharmacist or GP."
ENDS