Police award brave ambulance man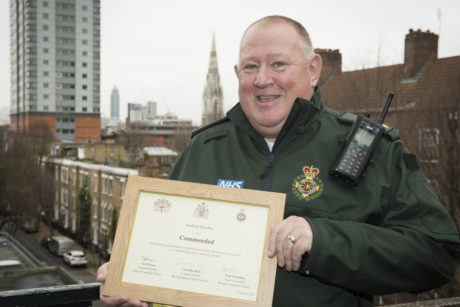 The medic who took charge of the ambulance response at the London Bridge terror attack as gun shots were fired, has been commended for his bravery.
Incident Response Officer Andy Beasley received an award at a special ceremony held by the capital's three police forces yesterday (4 December).
Andy, 49, said: "As I arrived on scene at Borough Market, police and members of the public were bringing patients towards me with a variety of injuries. It was then that I heard what I thought was gunfire so took cover behind my car. Once it stopped I came out and carried on working with my team to get treatment to the patients as quickly as possible.
"It did make me feel extremely nervous, but the training kicks in and you just focus on the job you're doing."
Andy, who has worked for the Service for 27 years, also attended the terror attack in Westminster.
He added: "I'm proud to accept this award, but it's for everyone who played a part that day – from the ambulance crews, to the control staff who took the calls, the police and the members of the public. Without the help of Londoners, we would not have been able to save as many lives as we did."
Andy was one of 200 people recognised for their actions during the terror attacks at London Bridge, Westminster and Finsbury Park this year.  They were presented by City of London Police Commissioner, the British Transport Police Chief Constable and Metropolitan Police Commissioner.
Chief Executive Garrett Emmerson, who attended the ceremony with Andy, said: "We've been tested this year like never before, but Andy and all of his colleagues who responded to these terrible incidents, pulled together to provide a truly professional response."
-Ends-
Notes to editors: