Over 1,300 years serving London
Ambulance crews, control room and support staff were recognised on Thursday (23 November) at a special ceremony to celebrate more than 1,300 years' of caring for the capital.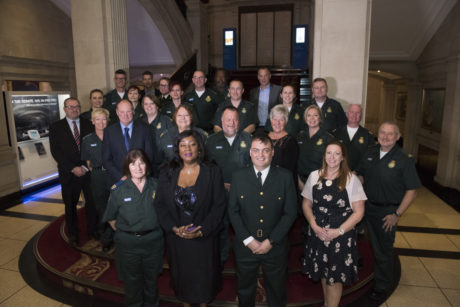 Family, friends and colleagues joined 59 retirees and long serving ambulance staff – some of who have responded to terrorist bombings and served London for 40 years.
Chief Executive, Garrett Emmerson, who presented the awards, said the event was "humbling."
He said: "I'd like to thank everyone who was recognised for the incredible length of service they have given to this organisation and that many of them will continue to give.
"It is also important we recognise their families for the support they have given colleagues through times of great triumph and tragedy, which has enabled them to give such fantastic service to us, our patients and the capital."
Helen Alasi, who has worked in the IT Department since 1997, helped to set up the organisation's email system. She said: "When I joined the Service we only had two computer servers. We now have over 500."
Emergency Medical Dispatcher Nicola Rome who celebrated 20 years' service at the event said: "I joined the organisation to help save Londoners' lives. I'm very proud of this achievement and it is really nice to be recognised for my work.
"I originally started out as an ambulance technician and did that for 16 years before joining the control room. It is the crew mates and people that keep you here, the camaraderie. We are like one big family."
The presentations reflected on the careers of those retiring, highlighting some of their most memorable moments of serving Londoners.
Those with 20 years' service received their Queen's Long Service and Good Conduct Medal or the London Ambulance Service Medallion, and retirees were presented with a certificate and a glass block or bell dependent on their length of service.
Ends
Notes to editors
For further information or to request an interview please contact the Communications Department on 020 7783 2286
The 59 people who were recognised at the event had a combined total of 1,316 years' of service between them
Pictured are ambulance crews, control room and support staff celebrating 20 years' service
Find out more about the London Ambulance Service at http://www.londonambulance.nhs.uk/ or follow us on Twitter at www.twitter.com/ldn_ambulance.